Christ Church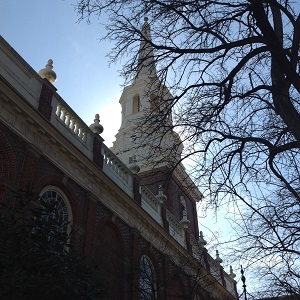 Christ Church is one of America's most historic shrines and as such Philadelphians have always revered it. Organized in 1695, during the reign of William and Mary, it was built between 1727 and 1754 when George II was king. There was a bas relief of His late Majesty on the church in the 18th century, but we are told that it was removed in the 1790s in a wave of either anti-British or pro-republican sentiment. A similar medallion is back on the church now above the Palladian window on 2nd Street. Philadelphia, very pro-British and fond of royalty and the trappings of kings, could not hold a grudge for long, it seems!
Washington, Jefferson, Franklin and Betsy Ross worshiped here and, perhaps, its most important single feature is the font at which William Penn was baptized. It was sent to Christ Church in 1697 from London by All Hallow's Church, Barking-by-the-Tower. The chandelier brought from England in 1744 is still in use as is the "wineglass" pulpit, made in Philadelphia by John Folwell in 1770. Inside the church memorial tablets line the walls and slabs marking family vaults are beneath our feet. The pews of Washington and Betsy Ross are marked by small brass plates, and generally, the feeling of history abides in this church as much as in any American shrine.
Two Signers of the Declaration of Independence, Robert Morris (1734-1806) and James Wilson (1742-98) are buried in the churchyard, as is Pierce Butler (1744-1826), who signed the Constitution and was a member of the Constitutional Convention. Five other Signers are buried in Christ Church Burial Ground, which will be seen later in this walk. Also buried here is Andrew Hamilton, the original "Philadelphia Lawyer," who is also credited with designing the State House, better known today as Independence Hall. A stroll around the churchyard is in order, especially if you are fortunate enough to be there when the eleven bells in the tower are rung after services on Sunday. The bells of Christ Church rang all day on July 4, 1788, when ten out of thirteen states agreed to ratify the Constitution.
---
---
Historic District, North of Market Street