National Museum of American Jewish History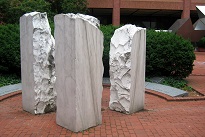 The National Museum of American Jewish History, on the south side of Market St., between 4th and 5th St. has been a symbol since its founding in 1976 of the contributions of the Jewish people to the growth and development of the United States. It is the only such institution exclusively dedicated to a comprehensive narration of the Jewish experience in this country and to a documentation of the full range of Jewish participation in the social, cultural, political and economic evolution of the nation. The museum possesses a vast collection of portraits, photographs, furniture and a variety of religious ceremonial objects, as well as contemporary arts and crafts. The collection is often used to augment visiting shows or to mount exhibitions sponsored by the Museum itself.
The picture above shows a memorial created by Israeli sculptor Buky Shwartz to Jonathan Netanyahu, hero of the Raid on Entebbe, and brother of Benjamin, who served as Israeli Prime Minister from 1996 to 1999, and again from 2009 to the present (as of March 2017). It stands outside the entrance to the museum.
---
---
Historic District, North of Market Street
National Museum of American Jewish History