Old First Reformed Church
---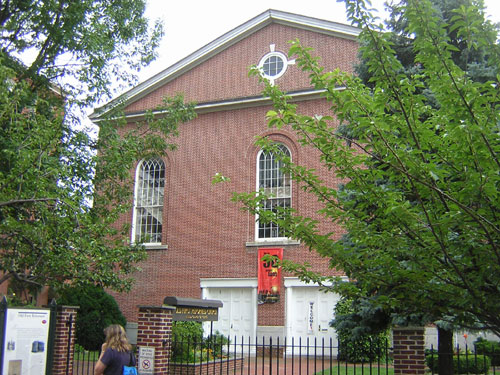 A Congregation on the Move
One of the earliest German Reformed Churches in America, Philadelphia's Old First Reformed was established by Rev. George Michael Weiss and predates the Declaration of Independence by nearly 50 years.
The present structure is the third church on the site and was dedicated in 1837, in a German-speaking neighborhood. In 1882 the congregation moved to another location and this lovely old building was used as part of a paint warehouse. Between 1882 and 1966 some unsightly appendages were incorporated. When the congregation returned to its original location, many of these eyesores were removed, the old brick cleaned and restored. The warehouse owner had built a brick wall in front of the old reredos — the ornamental screen behind the altar. When the brick wall was removed during the restoration, the original wallpaper reredos could be seen and was copied back.
Today the congregation is actively involved in the greater community. A live-animal creche is a familiar element of a Philadelphia Christmas — they have cows, sheep, goats, donkeys, and sometimes even a camel. The church members consider themselves a "celebrating people" and commemorate African-American History Month, hold a Lenten Art Competition, and host a jazz workshop.
---
Due to the large size of the church, memorial services for George Washington were held here in 1800 by the Pennsylvania Society of the Society of Cincinnati.
An early member of the congregation was William Will, who was a pewterer, patriot, and member of the General Assembly of Pennsylvania.
A sister church, the Zion Reformed Church in Allentown, Pennsylvania, was where the Liberty Bell was hidden during the British occupation of Philadelphia in 1777.
The 82-foot flagpole in front of the church came from the Betsy Ross House.
The British used the church as a hospital and then later for a stable in 1777.
This building once housed the Lucas Paint Company warehouse.
The charter under which church operates was granted by Thomas and Richard Penn.
Casper Weyberg, a pastor from 1763 to 1790, was briefly imprisoned by the British for his preaching to Hessian soldiers of the rightness of the patriot cause..
Old First relocated in 1882 and again in 1915 and finally returned to its present location in 1967.
---
Location: Southeast corner of 4th and Race Street (Map)
Built: Built 1772 and expanded 1837. Restored in 1967.
Architect: Robert Smith (unverified)
Style: Federal
Tourism information: Mo-Fr 8:30am-3pm. Tours by appointment. Services Su 11am. 215-922-4566
Official website: www.oldfirstucc.org