Library Hall
---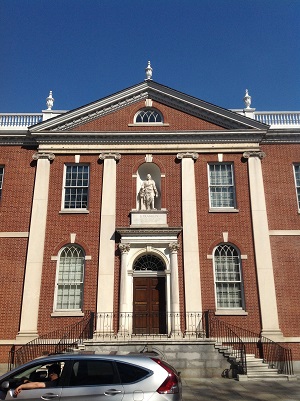 This was the first library in the country open to the public. It was the forerunner of the Library of Congress.
Founded in 1731 by Benjamin Franklin and his friends, the Library Company established a collection that was available for use on the premises and off by interested members of the community. Before this, books were owned by the wealthy and kept in private collections. During Colonial Days, the delegates to the Continental Convention were encouraged to use the resources at the Library, and as such it can be correctly considered the forerunner of the Library of Congress.
Library Hall was built in 1790 across the street from Philosophical Hall and survived until the Library Company outgrew the space. The building was torn down to make room for the Drexel Building and the Library Company moved to 1314 Locust Street (outside the Historic District), where they are to this day. In a wave of historic preservation, restoration, and recreation in the 1950s, the Drexel Building was razed and a reproduction of the Library Company's original building was built. Today, the rebuilt Library Hall houses some of the collection of the Philosophical Society, who today owns the building.
---
---
Location: 105 South 5th Street (between Chestnut and Walnut Streets) (Map)
Built: 1789
Reconstructed: 1954
Original architect: William Thornton
Tourism information: Small exhibit space in the lobby. Mo-Fr 9am-5pm. 215-440-3400
---