Welcome Park
---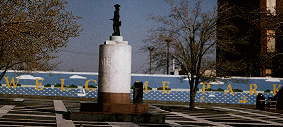 This open-air "museum" is the only site in Historic Philadelphia dedicated to celebrating the life and contributions of William Penn.
Welcome Park was built by the Friends of Independence National Historical Park in 1982 to celebrate the 300th anniversary of the founding of Pennsylvania by William Penn in 1682. It was designed by world-renowned architectural firm Venturi, Rauch and Scott Brown. It is named for William Penn's ship, the Welcome. It is located on the site of the Slate Roof House, Penn's residence in Philadelphia from 1699-1701, across the street from the City Tavern. This outdoor "museum" celebrates the life of the colony's founder. It was here as Proprietor of Pennsylvania that Penn penned the regulations for city and state government. It was here too that Penn promulgated the Charter of Privileges, guaranteeing religious liberty and civil freedoms to the inhabitants of "Penn's Woods." About four score and seven years later the Continental Congress drafted the United States Constitution which owes much in spirit to Penn's Charter.
Laid out in marble on the ground is the original city plan of Penn's Philadelphia. In the middle of the park is a miniature version of the statue of William Penn that crowns City Hall, several blocks away. Penn's plans and promotions for Philadelphia are engraved on the walls surrounding the park.
The Slate Roof House was originally built for Samuel Carpenter, a Quaker merchant from Barbados. The house featured two large corner rooms which projected toward Second Street but were separated by an indented "U" space that included the house's main entrance. The Slate Roof House was situated on high ground and commanded a fine view of the river. Penn rented the house for 80 pounds a year.
In the mid 1800's there was a growing awareness of the need to preserve the historic houses in Philadelphia. However, despite protests, the Slate Roof house was demolished in 1867 to make way for the Commercial Exchange Building, which shortly after burned down. The Exchange was rebuilt and sold to the Keystone Telephone Company, who in turn sold it to its competitor Bell Telephone. In 1976 the building was torn down.
---
The statue of Penn in the middle of the park is a miniature of the one atop City Hall, and was designed by Alexander Milne Calder, the grandfather of Alexander Calder, world-renowned sculptor of mobiles.
Welcome Park is named for William Penn's ship, the Welcome.
William Penn's son John, future Proprietor (equivalent of a Governor, with a Royal Charter) of Pennsylvania, was born on this site.
Served as home for Revolutionary War general Charles Lee.
British general John Forbes died in the house in 1759.
Site of the first automatic telephone exchange.
---
Location: Second Street and Samson Street Alley (Map)
Built: 1982
Commissioned by: Friends of Independence National Historical Park
Tourism information: The park is always open
Facilities: many benches
---