Declaration (Graff) House
---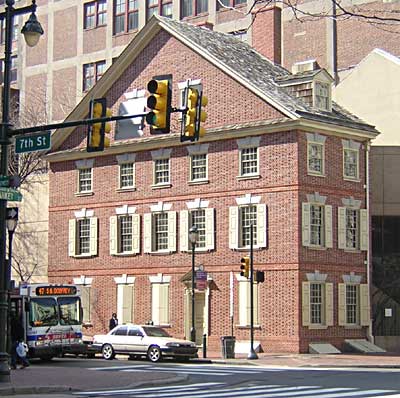 In June of 1776, Thomas Jefferson was part of a Virginia delegation that planned to ask the Second Continental Congress to sever its ties from Great Britain. While that historic body was meeting, Jefferson was assigned to a committee that was asked to write a declaration which enumerated the causes that led to the severance of ties with Great Britain. Finding his lodging in the heart of the city uncomfortable, he removed to the rooms of Jacob Graff. Graff was a well-known bricklayer who had built his house on the outskirts of town but a year before Jefferson arrived. It's probable that Jefferson had to pay a little extra for the rooms as they came furnished. The Graffs lived in the house while Jefferson undertook his task. Situated on the outskirts of town, surrounded by fields and a stable across the street, the house provided Jefferson with the space and distance from the city he needed for his task. Working from the Virginia Constitution as well as an extensive knowledge of political theory Jefferson wrote the document in under three weeks. An author at heart, Jefferson squirmed in resentment as the document was redacted during the final week of June 1776 by his fellow delegates to the Second Continental Congress.
The Declaration House exhibit includes a recreation of the two rooms Jefferson rented on the second floor. In it, one sees Jefferson's bedchamber including a tiny bed that makes it hard to imagine how the gangly Jefferson slept at night. One of the only original items in the exhibition is a key to a desk in the bedroom. Jefferson entertained other members of the Congress in the sitting room.
The original structure was torn down in 1883. Photographs of the site enabled the National Park Service to build a rather faithful recreation of the original building.
---
Stable across the street attracted horseflies which Jefferson complained about while writing the Declaration of Independence.
The site became among other things a print shop and a Tom Thumb diner.
Jefferson had an account at the City Tavern while writing the Declaration.
The house was once owned by Hyman and Simon Gratz. Their sister, Rebecca, was the inspiration for Walter Scott's Ivanhoe and Thackeray's Rebecca.
---
Location: 7th and Market (Map)
Originally built: 1775
Rebuilt: 1975 from old photos
Architect: Jacob Graff
Style: Georgian
Commissioned by: Jacob Graff, bricklayer
Tourism information: See NPS Website
Facilities: Books and site appropriate items for sale, bathrooms, benches.