Franklin Court
---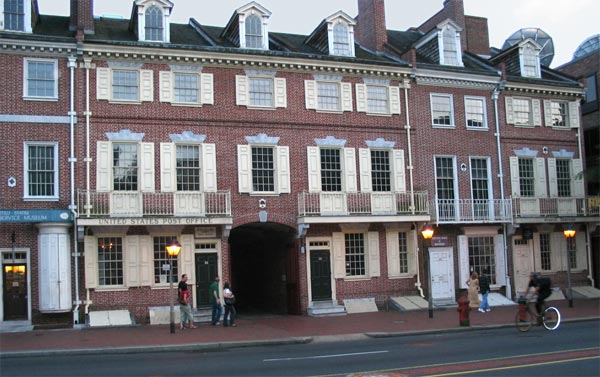 In this one area, you visit the United States Postal Service Museum, The Franklin Print Shop, and the Franklin Museum. Also, you can look deep underground into Franklin's privy, under the beautiful 54-foot high steel skeleton "Ghost Structure" designed by Robert Venturi.
Benjamin Franklin, in addition to his kite-flying career, was perhaps the most historically fascinating personality in Revolutionary Philadelphia. He moved from Boston to Philadelphia at the age of 17. He was a printer, diplomat, inventor, publisher, author, statesman, Postmaster, and more. He founded the Library Company, Pennsylvania Hospital, American Philosophical Society, and the University of Pennsylvania. Here is Philadelphia's tribute to this great man, comprising various locations in the same area.
FRANKLIN COURT
In the court itself once stood his house. What is known of the house is that it was three stories high, covered 33 feet square, and included 10 rooms. The house was razed in 1812. Because no historical records of the look of the exterior exist, the space once occupied by the house is marked by a wonderful, oversized "Ghost Structure" designed by world-famous architect Robert Venturi and built in 1976 for the bicentennial. You can look through portals to see into Franklin's privy pits, wells, and foundation. An extremely rare Bristol punchbowl and other ceramic artifacts were found in the privy pit.
UNDERGROUND MUSEUM
Below the court is a museum filled with paintings, objects, and inventions associated with Benjamin Franklin. You will see a pretty reproduction of Franklin's Armonica, also called a glass harmonica, which consists of a set of graduated glass bowls on a rotating shaft that produce tones when a finger is pressed to the moistened rims. Mozart wrote a piece just for Franklin's new instrument. Other Franklin inventions you can see here include a Franklin stove and the swim fin (Franklin was, after all, a champion swimmer in his day). The main room has a phone bank where you can listen to testimonies about Franklin based on the words of Washington, Mozart, and D.H. Lawrence, among others. Enjoy the 18-minute film.
UNITED STATES POSTAL SERVICE MUSEUM (314 Market Street)
Exhibits include Pony Express pouches and originals of Franklin's Pennyslvania Gazette.
POST OFFICE (316 Market Street)
This is the only active post office in the United States that does not fly a United States flag (because there wasn't yet one in 1775). The postmark "B. Free Franklin" is still used to cancel stamps.
318 MARKET STREET
Here you will see an architectural exhibit about Franklin's interest in fire-resistant buildings. Walls are fully exposed to reveal wooden joists separated by masonry and plaster. In the cellar are collections of pottery and glassware, collected from his privy pits.
PRINTING OFFICE AND BINDERY (320 Market Street)
Demonstrations of 18th century printing and binding equipment are on display. Printing demonstrations are given by Park Services rangers.
GENERAL ADVERTISER (322 Market Street)
This is the restored office of The Aurora and general Advertiser, the newspaper published by Franklin's grandson, Benjamin Franklin Bache.
---
James Wilson, an editor of The Aurora, lived at 322 Market Street. His grandson, Woodrow, became the 28th President of the United States.
Sarah Josepha Hale, editor of Godey's Lady's Book and author of "Mary Had a Little Lamb," worked at 322 Market Street from 1837-1877.
---
Location: 316-322 Market Street (between 3rd and 4th Streets), plus the courtyard accessed through the portal in the middle or from Chestnut Street. (Map)
Tourism information: See NPS Website
Facilities: Bathrooms, handicap access, guides, bookstore, film in the Underground Museum.