Headhouse/Shambles
---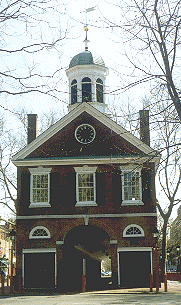 Firehouses were at either end of this marketplace.
In 1745 sheds were erected to allow merchants to gather in a marketplace to sell food and wares. At the ends of the sheds were headhouses, which are fire engine houses. They were built in the early 1800s. Each headhouse had alarm bells and a second-floor fireman's social club. The shed between Lombard and Pine Streets, called the Shambles, was restored in the early 1960s. The headhouse seen in the photo above was built in 1805. Its interior is under restoration. In the Spring and Summer handcrafts are sold by artisans in an open market.
---
The building across the street on the northwest corner (seen in the photo) was owned by an uncle of Betsy Ross's husband John. It's called the Ross House.
Nation's oldest firehouse and marketplace.
---
Location: 2nd Street, between Pine and South Streets (Map)
Built: 1745
Style: Headhouse is Georgian
Tourism information: Handcrafts are sold in open market in Spring and Summer.
Facilities: None
---