18th-Century Garden
---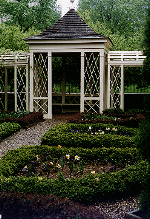 A lovely garden in the Historic District
This wonderful garden is styled after Philadelphia gardens of the 18th century, though it is not an authentic reproduction of period gardens.
The non-virtual visitor would do well to visit this little eden next to the Todd House and just south of Carpenters' Hall.
The garden consists of three parts: an orchard, a formal garden, and an area for herbs and veggies. Parterres (ornamental arrangements of flower beds) abloom with seasonal flowers highlight the formal garden. Within the little garden are 16 boxes containing small hedges. Within the hedges are flowers and plants. Also in the garden grow four Dr. Seuss-like trees (pruned to allow bare bark to show intermittently). This geometric arrangement proves most relaxing, and one almost forgets that a city lurks just beyond a bright row of hawthorns.
---
Styled after Philadelphia gardens of the 18th century, but not authentic
---
Location: 325 Walnut Street (between 3rd and 4th) (Map)
Tourism information: Free
Facilities: Outdoor garden benches.
---