Meet Our Students
The NHD Effect.
NHD Builds Confidence and Leaders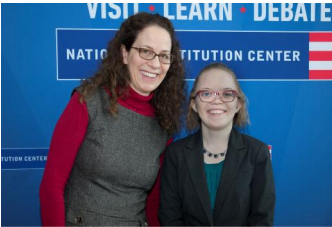 Emma O'Neill-Dietel, First Place Exhibit, Maya Angelou: Setting Caged Birds Free with Her Words; Third Place State Finalist 2015. 2017 rising freshman to Smith College. With Janet Benton (author of Lili de Jong) at NHD Philly 2017
In 2015, during my sophomore year at Masterman High School, I competed in National History Day Philadelphia with an individual exhibit about Maya Angelou. I won first place at NHD Philly and went on to win third at NHD Pennsylvania. Over the course of my project, I discovered an affinity for research and history that had remained largely dormant in previous years. The process of creating an exhibit board is something that I reflect on every time I visit a museum or see a display at a historical landmark. NHD was well worth the long days of research and late nights of preparation that I invested in it. I value my NHD experience not only for the factual knowledge, but for my personal growth as well. I am now better able to understand the connections between history, present, and future, and analyze the impact that an individual such as Maya Angelou can have on a movement, a country, and on the entire world.
After my participation in NHD in 2015, I wanted to do everything I could to stay involved with the amazing program and to show others the value of the NHD experience. In 2016 and 2017, I served as a mentor to the sophomores at Masterman as they created their NHD projects. It was incredibly gratifying to witness their growth as students as they taught me about historical figures and moments from the Haitian Revolution to the 1968 Olympics Black Power Salute.
This year's National History Day Philadelphia was a bittersweet one to say the least. As I am now a senior in high school, this is the last year that I accompanied my younger peers on their NHD journey. It was with great pride that I watched the sophomores prepare to present their projects, because I knew the origin story behind each and every one, and I knew the depth of the students' excitement and expertise on their subjects. Their diligent work resulted in much success at NHD Philly, and yet more success at NHD Pennsylvania. I am thrilled to know that several of the students I mentored will be competing at the national level of NHD. When I see the value that they place in their projects, I know that I have succeeded in passing my love of NHD onto them. My greatest wish for the students I have worked with is that they will stay involved with NHD as I did to carry that passion for history and learning into the years that follow.
After my years with NHD, it was an enormous honor to be recognized by NHD Philly and given a consultation with Janet Benton, a writer and editor who often explores history in her writing. I met with Ms. Benton in March, and we spoke about everything from songwriting to publishing novels to college choices. Ms. Benton's advice inspired me to reexamine an old piece of writing that I had put away this past summer. I had abandoned my piece because the research involved in writing historical fiction intimidated me. When I asked Ms. Benton for her insights on research, she told me that yes, research is difficult and requires diligence, but it is not so tedious if you are passionate about the subject of the research. She advised me to wait for a time in my life when I had the drive and energy to continue the story. I can now say that such a time is right around the corner.
This fall I will be a freshman at Smith College, a college well known for its historical archives. I will also be a short ride away from Boston, which is overflowing with history. I look forward to exploring and connecting Boston's history with the Philadelphia history with which I am so familiar. It is at Smith that I hope to pick up the writing I discussed with Ms. Benton as well as expand the scope of my writing to include aspects of lyrics and memoir. I have no doubt that on my visits home from college I will return to my NHD classroom to see the work of the next year's sophomores. I could never stay away from NHD for long.
NHD Philly press release
---
Raymond Yuan, Constitution High School (2014), Drexel University (2018)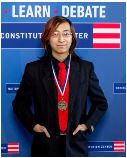 My first experience with National History Day in 9th grade was kind of confusing. I didn't realize it was a competition and thought it was just a school project. Over the months, I worked constantly on research building up a collection of primary and secondary sources.  My project category was documentary because I had some experience in film from my K-8. Documentary was new to me but also familiar and I won second place in my first ever competition. I finally won first place for my documentary, Labor Rights: Responsibilities Born of Tragedy, in 2014 in my final year competing and it was great. I compared my projects over the years and I definitely improved the technical aspect of it as well as my research skills and confidence. National History Day Philadelphia provides students equal opportunity to compete and win regardless if you come from a Blue Ribbon school, private school, home school, etc. In the end it's about the project and research.
As a result of the 2013-2014 School District of Philadelphia budget cut nicknamed "Doomsday Budget", my high school lost our art teacher. The technology teacher decided to fill that position and I took upon myself to continue the schools technology operations as a full time as the Interim Head of Technology working 10AM - 6PM. I setup and helped resolved all technology issues the faculty and staff had as well as maintenance during that year of many challenges for schools all around the city.
 As a result of National History Day, I have had amazing opportunities in my life. I became an intern at The National Archives and Records Administration and continue to with great people to this day. I have helped out with special NARA events and became part of the National History Day Philadelphia Logistical Team, which works to plan and executive the district competition. As a member of that team, I most recently prepared an assessment of how the competition can best operate the judging of student documentaries using different technology platforms and mediums.
In the end, I graduated top of my class with many honors, including my school's NHD Award, as well as winning scholarships for college. One of them was from the City of Philadelphia. I am currently attending Drexel University as a Marketing Major but I somehow always end up working with education. Even after all these years, I'm still working with NHD and I am very glad to contribute to this program.
---
Kyah Hawkins, Constitution High School (2014), Rosemont College (2018)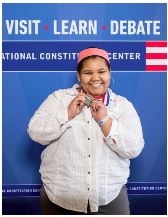 Being a veteran of National History Day and attending states twice, has shaped my college career, so far. Each time that I had an opportunity to participate, I chose a women's history topic. My last project was an individual performance, The Fight for Sex: The Margaret Sanger Story.
I saw while studying history in high school that women were greatly unacknowledged. This became even more clear when I started to research for my NHD topic; women had so many struggles. Once researching colleges and majors, I discovered a Women and Gender Studies major. I looked more into the major and saw that it was made with the purpose to make aware of issues that faced everyone and not just women. It was inclusive of everyone; how I believed history should have been. Once I started college I realized that even though Women and Gender Studies was my choice of major and my main focus, History was a huge part of my life. National History Day has shaped me to know that the past, present and future relies heavily on history. Without history nothing would be known. We won't be able to learn anything new. All in all National History Day has taught me the importance of knowing the past.
Now with participation in NHD my college advisor has recommended me to do an Oral History project to interview members of the Sisters of the Holy Child, the Order that founded my college, to collect their history. My advisor knows that I have the skills to discover and document the Order's stories. Also, NHD has helped me write so many papers. NHD has develop the way I use my brain, particularly to think logically and critically. Overall, I think my NHD participation and achievements have shaped who I am today and what I may become in the future.
---
Malik Neal, Fulbright Research Scholar; Program Assistant, Eisenhower Fellows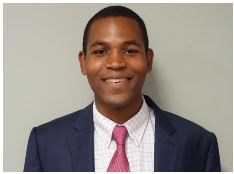 Malik, a graduate of West Catholic High School, is a three-year veteran of the NHD Philly program, starting the program in 10th grade.  He advanced to the PA State Finals three times: 2006, 2007 and 2008.  With his classmate, Hafton Khasai, he produced the first NHD Philly program video, exploring how participating in the program makes student strong critical thinkers as well as college and career ready, with a passion for life-long learning. Malik stayed connected with his NHD Philly family throughout his college years and relied on the Philadelphia NHD network help his search for the primary sources he needed to complete his senior thesis in History at College of the Holy Cross.
After graduating from college in 2013, Malik was awarded Fulbright Research Scholarship by the U.S. Department of State. His research concerned investigating the root causes of ethnic conflict and monitoring reconciliation efforts after the country's 30-year civil war. In addition, working with former child soldiers and school children in Sri Lanka, he examined the role education plays in reconciliation efforts. During his time in Sri Lanka, Malik put the skills he gained at National History Day into practical use. His research relied heavily on archival and field research, i.e., evaluating primary and secondary source materials and interviewing former rebels and those affected by the war. He also was a freelance writer for several international publications, where he reported on the political situation in Sri Lanka among other things.
Malik currently works at Eisenhower Fellowships, an international leadership exchange program located in Philadelphia. Founded in 1953, this program honors President Dwight Eisenhower's commitment to fostering world peace. Previously, Malik has worked on Capitol Hill and at the Foreign Policy Research Institute, and has taught and tutored at the high school for inner-city boys in New York's Lower East Side. Malik's outside interest including working with others on ways to improve criminal justice reform outcomes for incarcerated youth.  "My approach is to include young people in developing solutions through their research and civic participation," says Malik.
---
NHD Supports Interdisciplinary Learning
Darya Bershadskaya and Elia Kaplan Central High School, International Baccalaureate Program, NHD Philly Senior Division Competitors, 2017
As students in the International Baccalaureate program at Central High School, we often consider the ways in which the diverse perspectives of the world shape the rich culture that we grow in. The NHD research process encouraged us to assess history in a way that acknowledged the deeply-rooted repercussions of being an individual grappling with societal hierarchies throughout our nation's history.
Through the process of researching for NHD, we were able to realize the immense privilege and power that we have when analyzing primary sources from the past. Examining history through the lens of both yesterday's present and today's past, we hope to foster the critical thinking skills that NHD taught us in our future study of history.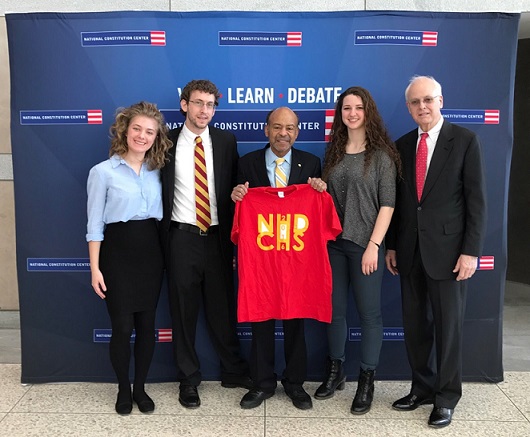 ---
NHD Supports STEM Achievement and Makes STEM Careers Possible
Monica Phann; First place in Group Website, Sick and Tired of Being Sick and Tired: The Mississippi Summer Project, 1964, at both Philly and state; third place at nationals in 2012; now a sophomore at University of Pennsylvania School of Nursing
Participating in NHD was certainly one of the highlights of my high school career. NHD taught me how to research primary documents, investigate evidence, and network with historians while allowing me to use my creativity to construct a website to display my findings. During my NHD experience, I made many unforgettable memories as I competed at the city, state, and national levels. I met other students who shared the same fascination with history and who valued taking the time to research just like me. The skills I developed overtime carried with me all throughout high school and to college. Currently, I am a second year nursing student at the University of Pennsylvania. Even as a nursing student, I am still able to apply my NHD techniques to my clinical experiences. NHD taught me to have compassion as I collected medical history from my patients, to appreciate nursing history that has led to great medical advancements, and to admire nurse researchers for their work that has shaped today's nursing education. Without NHD, I would not have the mindset and positivity I have to be a nursing student today.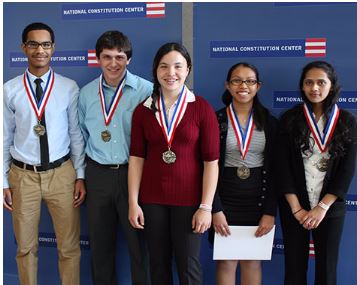 ---
Sujatha Changolkar, team member with Monica Phann; now pre-Med at the University of Pennsylvania
NHD was an unforgettable experience. I not only thoroughly familiarized myself with the specific historical event of the Mississippi Summer Project of 1964, but also gained valuable skills that are applicable to my future. From researching documents and extrapolating key ideas, to interviewing people and maintaining connections, my NHD experience has consistently pushed me to expand my thinking. The friendships I made, the experiences I gained, and the professionalism I embodied in this effort will stayed with me beyond the yearlong competition.
---
Catharine Haak, competed in 2008; first place in Group Exhibit at NHD Philly, graduated from University of Pennsylvania in 2014. Currently in San Francisco, working as a Research Associate at a company called Intrexon.
The most important part of my education is that I was given the tools to find information and present it in a compelling way. The NHD experience gave me these tools and the confidence to use them. I remember proudly standing by my project, Racial Conflicts Divide a High School, a Neighborhood, a Nation, and feeling like I had done something great. In college, I chose to go into engineering, a field that requires me to constantly find information from different sources and confidently present my analyses. NHD gave me tools that I use every day to succeed in a challenging career.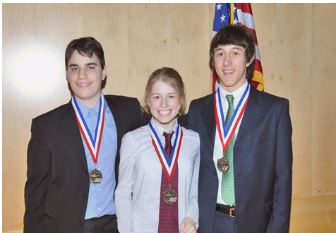 ---
Alex Wiggins competed in 2009, NHD Philly first place in Individual Performance, William Gray III: Bridging the Gap Between Blacks and Jews; graduated from the Wharton School at University of Pennsylvania, 2015
NHD was truly my first taste of research. Through my project on the history of Black & Jewish relations, and the founding of Operation Understanding, I was able to find the value (and the fun!) in discovering answers to questions that aren't easy to find. My curiosity and love of research followed me throughout my time in high school, college, and my career, where I currently work as a Market Research Analyst! NHD truly allowed me to explore my interests on a deeper level, and prepared me with life skills that go beyond the classroom.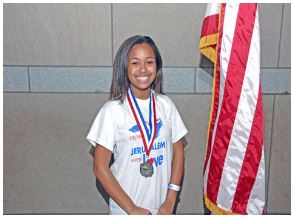 ---
Mingxue Zheng, participated in NHD Philly over four years from middle school to high school, won 3rd Place Group Documentary in 2013 with project, Triangle Fire: The Change Towards Humane Working Conditions; currently a freshman with a merit scholarship at Penn State studying for a career in biotechnology or biomedical engineering.
Here's my story: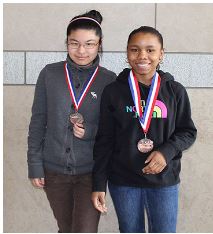 ---