Check in with some of our NHD Philly alumni!
---
Meet Emma O'Neill-Dietel
JR Masterman High School
National History Day set me on a path that I am still following today. I participated in NHD as a sophomore at J.R. Masterman, winning first place for an individual exhibit at NHD Philly and third place at NHD PA. I returned to mentor younger students over the next two years. After graduating from Masterman, I attended Smith College. There, I followed my passion for history that NHD had ignited. I built on what I had learned through NHD about archives and exhibits by working in Smith's historic clothing archive. I also interned at the Smithsonian National Museum of American History and the Library Company of Philadelphia. I was honored to return to NHD as the NHD Philly Education Fellow in 2021. I will graduate from Smith in May 2022 with degrees in World Literatures and Spanish and a concentration in Archives Studies. I am pursuing a career in museums and archives because NHD showed me that history is not just something in a textbook. It is tangible, vibrant, and essential to our future.
---
Meet LJ Brubaker
JR Masterman Highschool
Hi! My name is LJ Brubaker (they/them) and I have participated in NHD as a local and state-level judge for several years and once as a student at JR Masterman High School. I currently work as a science communicator for the National Radio Astronomy Observatory, so I spend a lot of time thinking and talking about what happens in deep space.
I am also pursuing studies in urban ecology, and I am deeply interested in urban pollinator ecology and insect biodiversity in cities like Philadelphia. My favorite part about judging at NHD is getting to hear students share their excitement about their topics and research-never stop learning!
---
Meet Raymond Yuan
Constitution High School
Over the years, I've continued to volunteer and contribute to NHD Philly annually using my professional and academic experience and participate in the Communications Committee when available. I completed my Bachelor of Science in Business Administration Degree in Marketing from Drexel University, LeBow College of Business in 2018, and am entering my 4th full year at FAIMER (Foundation for Advancement of International Medical Education and Research), A Member of Intealth.
As the Technical Associate, Digital Developer and Database Administrator and other roles at FAIMER, I've had the opportunity of a lifetime to work with many organizations (including The World Health Organization), thought leaders, and highly esteemed health professionals globally to support FAIMER's mission. Although my role is mostly in the realms of MIS and digital media among a myriad of responsibilities, I often reminisce about spending hours and hours a day editing my documentary and manipulating the timeline and audio when I've worked on media for marketing and promotional purposes.
National History Day Philadelphia has brought on lifelong connections, many great friends, and helped kickstart an interesting career journey.
---
Meet Waynett Wallace
Constitution High School
My name is Waynett Wallace, and I am a NHD Alumni. I was a freshman at Constitution High School when I started my NHD project. The theme at the time was leadership and legacy. I chose Ida B. Wells because she was a pioneer in her era. My peers and I performed a group performance on her journaling denouncing lynchings. We progressed to the national competitions and won the Carter G. Woodson award. It was an amazing experience to walk on the stage and receive my medal. After winning, I made a note to myself to keep achieving my dream. Last year, I had the honor of announcing the winners for National History Day. The nostalgia of having the opportunity to speak at this event was heartwarming. It was a great experience to speak for the program that provided a platform for me to showcase my talent. Currently, I am enrolled at Rosemont College as BA Applied Psychology major. I look forward to owning a non-profit therapy counseling center. Providing essential care is a humble pleasure of mine. I enjoy talking with people and seeing them grow. Also, I work at the National Constitution Center as an Educational Experience Representative. I have facilitated seminars, visited schools lecturing the effectiveness of civil dialogue, and joined panel discussions addressing systemic changes. I am forever grateful for National History Day, and I will continue cheering for future NHD alumni.
---
Meet Deion Jordan
Constitution High School
Deion A. Jordan is the Educator in Residence at Getting Smart. He brings the educator voice to the table in strategic partnerships, education policy, advocacy, writing, podcasting, speaking, and research. Before Getting Smart, he served as Director of Competency-based Learning on the Instructional Leadership Team at Crosstown High (XQ Super School) in Memphis, Tennessee. Deion holds a bachelor's degree in Philosophy from Connecticut College. He believes that learning is a mutual exchange between pedagogue and pupil. He places a strong emphasis on seminar and student-centered classes, steeped in the principles of the Socratic method.
---
Meet Madeline Elwell
JR Masterman Highschool
My name is Madeline Elwell and I have participated in NHD Philly for three years as a judge and once as a Sophomore at Julia R. Masterman High School, making it to the state-level in the Individual Performance category. After high school, I attended Smith College and majored/minored in Sociology and Africana Studies, with a focus on race and health. Currently, I work for a small company creating enamel pins and jewelry for liberal causes, doing design work, customer service, and all-around tasks running a small business.
NHD kickstarted my love of research and piqued my interest in African American history, which I dove deeper into during college. Being a former participant has enriched my experience as a judge, and I love hearing from students about their topics. Keep researching and learning; you never know what you'll find out!
---
Meet Iliana Correa
JR Masterman High School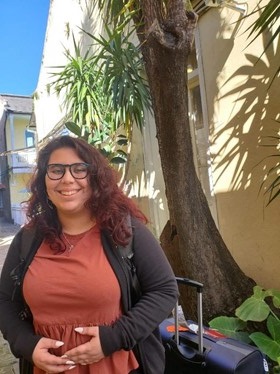 Hi, my name is Iliana Correa and I participated in NHD once as a sophomore at JR Masterman High School. As an individual exhibit, I placed 2nd at NHD Philly and NHD PA and participated at the national competition. I mentored fellow Masterman competitors for the next two years. This year will be my first year as NHD Philly judge. I am currently a junior at Arcadia University majoring in Chemistry and minoring in Sociology. As a freshman in college, I studied abroad in London for a semester. I am the current Head Chemistry tutor at Arcadia's Learning Research Network as well as the Community Outreach Coordinator for the Honors Program. I am also a co-coordinator and speaker at TEDxArcadia University this spring. I hope to graduate next year and work for two years as a high school chemistry teacher in an underserved community. After that I want to go for my PhD in Chemical Education and then teach General Chemistry at a university.
---