Historic Germantown People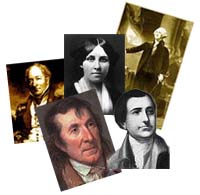 Germantown has seen many important events and was home to some of the people who shaped American history. Below is a list of famous and influential people who lived or worked in Germantown. Click on a name to learn more.
Interested in using a picture? Some text? click here.
To contact the webmaster, click here
Copyright ©2000-2013 by the Independence Hall Association,
electronically publishing as ushistory.org.
The IHA is a nonprofit organization in Philadelphia, Pennsylvania, founded in 1942.
On the Internet since July 4, 1995.