Francis Daniel Pastorius
Leader of Germantown settlement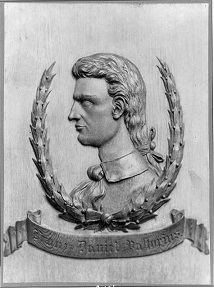 In 1683 Francis Daniel Pastorius was commissioned by the Frankfort Land Company and a group of merchants from Crefeld, Germany to form a settlement in America. They purchased fifteen thousand acres in Pennsylvania and Germantown was born.
Pastorius was born in Frankenland, Germany, studied at the University of Altorf and later studied law at Strasbourg, Basle, and Jena. He also studied international polity at Ratisbon. He received his degree of doctor of law at Nuremberg. He studied the Pietism, the teachings of the pastor Spener. He joined the sect of the Pietists and with some other followers Pastorius planned to create a settlement in Pennsylvania, William Penn's religious haven. Pastorius met Penn himself and soon converted to Penn's Quaker doctrines.
Pastorius led the settlement in Germantown on June 20, 1683 as a settlement of Mennonites and Quakers. Soon Pastorius became the town's leader and lawmaker, as well as one of the most dedictated members of the Society of Friends. In 1688 he drafted the first protest against slavery in America. He served in town office on several occasions.
On November 26, 1688 Patorius married Anneke Klosterman. Pastorius was an avid gardner, writer and poet. And he often wrote about the pleasures of gardening. He left behind forty-three volumes of manuscripts. He was on intimate terms with William Penn, Thomas Lloyd, Chief Justice Logan, Thomas STory, and other Pennsylvania leadrs. Pastorius died in Germantown between December 26, 1719 and January 13, 1720.
Sources:
1. "Pastorius, Francis Daniel." The Dictionary of National Biography. Edited by Sir Leslie Stephen and Sir Sidney Lee. Volume XV. Oxford: Oxford University Press, 1917.