Louisa May Alcott
Author of Little Women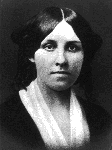 Photograph courtesy of the
Louisa May Alcott Memorial Association
Alcott was born on November 29, 1832, in Germantown at Pine Place, 5425 Germantown Avenue, to Amos Bronson and Abigail May Alcott. Louisa served as a nurse in Union hospital at Georgetown during the Civil War. Later in 1863 Hospital Sketches was published from the letters she wrote during this period. In 1867 she edited a children's magazine called Merry's Museum.
Alcott found her greatest success with Little Women, published in 1898. She released a second volume the next year. Her other works include An Old Fashioned Girl (1870), Little Men (1871), Aunt Jo's Scrap Bag (6 vols., 1872-82), and Jo's Boys (1886).
Sources:
1. "Alcott, Louisa May." Webster's Biographical Dictionary. Springfield: G. & C. Merriam Company, 1980.
2. Marion, John Francis. Bicentenial City: Walking Tours of Historic Philadelphia. Princeton: The Pyne Press, 1974.
Interested in using a picture? Some text? click here.
To contact the webmaster, click here
Copyright ©2000-2013 by the Independence Hall Association,
electronically publishing as ushistory.org.
The IHA is a nonprofit organization in Philadelphia, Pennsylvania, founded in 1942.
On the Internet since July 4, 1995.