Historic Valley Forge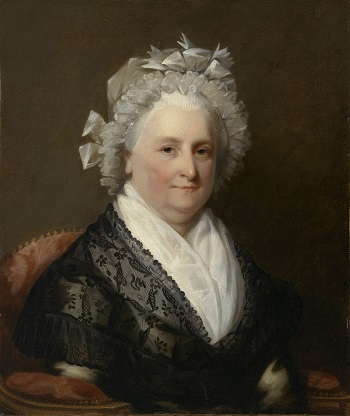 In 1633, the Reverend Rowland Jones immigrated from England to the colony of Virginia. He had graduated from Oxford University and in Williamsburg served as minister of Bruton Parish for fourteen years. Two generations later, his great-granddaughter, Martha Dandridge was born on June 2, 1731 on a plantation near Williamsburg. She grew up in the Dandridge home, Chestnut Grove. She enjoyed riding horses, gardening, sewing, playing the spinet and dancing. Her father saw that she received a fair education in basic mathematics, reading and writing...something girls primarily did not receive at the time.
At the age of eighteen, Martha was married to Daniel Parke Custis. He was wealthy, handsome and twenty years older than her. Martha set up housekeeping on the Custis plantation, while her husband managed the estate which encompassed over 17,000 acres. Her husband adored his young, pretty bride and pampered her with the finest clothes and gifts imported from England. They had four children, two died in infancy. John Parke, called "Jacky" and Martha, called "Patsy" were their two surviving children. In 1757, when Martha was twenty-six, Daniel Parke Custis died after a brief illness. Jacky was three and Patsy was less than a year old.
Passing on without a will, Martha was left with the duties of running the household, the estate and raising her children. (Fatherless children were usually "raised" under the auspices of a guardian, even if the mother survived — which meant that another male, primarily a relative, took care of the estates of the children). Her early education proved quite helpful in the task. Her husbands former business manager stayed on to help with the operation of the plantation and she consulted with lawyers when she felt it was necessary.
Sometime later, Martha met a young colonel (several months younger than her) in the Virginia Militia at a cotillion in Williamsburg. This young colonel fought for the British in the French and Indian War. His desire was to become a commissioned officer in the Royal Army, but the British never considered it. His name was George Washington.
Martha fell in love and George found her quite attractive. (That she had a good disposition and inherited wealth were an added bonus to the relationship). He had had a crush on a pretty neighbor, Sally Fairfax, but when she married another, he knew he must find a suitable wife for himself.
Martha married George on January 6, 1759. The marriage changed George from an ordinary planter to a substantially wealthy landowner. He had resigned his commission in the militia and so, George, Martha, Jacky (4), and Patsy (2) moved into the enlarged and remodeled Mt. Vernon. Martha was careful and conscientious in running her home, although she and her husband did not pinch pennies when it came to caring for their home. Her children were denied nothing. She pampered and lavished attention and expensive gifts on them.
They lived well at first, but subsequent bad crop returns over a number of years began to take their toll on their finances. They continued their style of living, however, and the constant stream of visitors to entertain did not help their sagging bank account.
When the children were eight and six years of age, a Mr. Walter Magowen was hired as their tutor. At the age of twelve, Patsy had an epileptic seizure and as her condition worsened, she could no longer study. Mr. Magowen left for England soon after Patsy became ill and Jacky was sent to Boucher School in Caroline County (Boucher was moved to Annapolis in 1770). He was an indifferent student, interested more in having fun than being studious. A proposed trip for Jacky was refused by his stepfather because he felt Jacky was too immature, and their finances couldn't handle the expense. He was sent to King's College in New York instead. While there, he met Eleanor "Nelly" Calvert and they got engaged. Soon after he had left for New York, Patsy died at the age of 17. Martha was devastated, but told Jacky to remain in school. By December, Jacky wanted to return to Mt. Vernon, and on the way, on February 3, 1774, Jacky and Nelly were wed at Nelly's home Mt. Airy in Maryland, before heading further south.
Around the same time, the political unrest in the colonies was becoming more vocal. The colonists were being burdened with an inordinant amount of taxes and levies. Some of the friends and acquaintances of Martha and George, people who were visitors to their home, were soon to become the Founding Fathers. Martha herself was considerably torn. Her friends and family were split on both sides. Her son's in-laws were loyalists as well as some of their neighbors. George, however, felt it was his duty to assume some role of leadership at the urging of some of his fellow patriots. He began by working on recruiting and training an armed force. Militia were organized by state. Realizing he would have to be away from home, he asked Jacky and Nelly to stay at Mt. Vernon with Martha, which they did.
George Washington soon became the Commander-in-Chief of the Continental Army and he took charge of his army at Cambridge, Massachusetts in the winter of 1775. Martha, Jacky, Nelly, and some friends traveled two weeks to be with him there for Christmas. Martha stayed with him until June of 1776, but the others returned home soon after Christmas. She wouldn't see him again until March of 1777, where the army was encamped at Morristown for the winter. The General was feeling ill and his wife was there to nurse him. He sent her home when the fighting got closer.
At Mt. Vernon, Martha gathered her family to get the smallpox inoculation...an iffy project because you could contract the disease and die anyway. Martha would not rejoin her husband until February of 1778, where she joined him at Valley Forge. There she entertained some of the officers and the other wives who shared winter quarters there.
Jacky was becoming restless at home, and volunteered to become an aide to his stepfather. He was enlisted only a few days when he died on November 5, 1781 of "camp fever." Jacky was the last of Martha's children and she was quite distraught. George told her to stay at Mt. Vernon instead of being with him that winter. By this time, Jacky and Nelly had six children: Eliza Parke Custis, Martha Parke Custis, Eleanor Parke Custis, a set of twins who died and George Washington Parke Custis. Nelly was in poor health after the birth of her own Nelly and as a result, the young baby was sent to Mt. Vernon to be nursed. With the birth and death of the twins and the subsequent birth of George Washington Parke Custis, he joined his sister at Mt. Vernon.
The war ended on November 25, 1783, when the British left their last stronghold. Washington said farewell to his troops at Fraunces Tavern in New York, shopped for gifts for his grandchildren in Philadelphia and resigned his commission in Annapolis (temporary home of Congress). On Christmas Eve, he rode into Mt. Vernon.
Martha's daughter-in-law soon remarried a widower, Dr. Stuart, who had set up practice in Alexandria. Young Nelly and Wash would imminently be leaving Mt. Vernon to live with their mother. Due to some confusion in guardianship and Martha's own distress at losing her grandchildren, the children ended up staying at Mt. Vernon.
Martha resumed her housekeeping career, as well as entertaining and caring for her grandchildren. Guests were constantly streaming in and out of their home. She became ill in 1785, the same year her mother and brother died. George hired several tutors until Tobias Lear was hired as tutor for the children and as secretary to George Washington, which lessened some of Martha's duties.
The Constitutional Convention was convening and George traveled to take part. He was named president of the convention and before ratification of the new Constitution, he was being urged to accept the role of the President of the United States. He returned to Mt. Vernon. Both he and Martha realized that he would be President by the beginning of 1789. In April, he was elected unanimously by the Electoral College.
George and Martha had to apply for a loan to pay for the move to New York — the temporary capital. George arrived first and his inaugural ball was held before Martha could be with him. Martha and her grandchildren were hailed with fanfare all the way to New York. It was all a bit overwhelming for her. Her duties included not only the operation of her own house, but planning and arranging formal dinners, parties and receptions.
They fell into a pattern of routine with the President holding open receptions to any clean respectable males on Tuesday afternoons. Martha had her own receptions on Fridays open to both men and women. Sundays were family days, first going to church at St. Paul's and various outings with the grandchildren in the afternoons.
The first year they moved twice. Once to a larger home in New York on Broadway and the second time, in November, to Philadelphia, to await the completion of the new capital on the Potomac River. Martha loved Philadelphia, as did her grandchildren. She had a number of old friends and acquaintances there with whom she could attend parties and the theater with.
Nelly and Wash were raised much like Patsy and Jacky had been, and were similar in temperament to their father and aunt. Wash, in fact, hated school as much as his father had. Nelly was very pretty, popular and was very close to her grandmother and step-grandfather.
George Washington was elected to a second term which was somewhat difficult for him when war broke out between France and England. His desire was for the United States to remain neutral and others in the government felt aid should be given to France. As a result, Thomas Jefferson resigned as Secretary of State and Alexander Hamilton threatened to submit his resignation. By August, a severe epidemic of Yellow Fever spread over Philadelphia. The First Family traveled to Mt. Vernon until cold weather hit the city and ended the disease.
March 4, 1797 was the day that George Washington gave his farewell to Congress and the Washingtons soon returned home to Mt. Vernon. They celebrated George's sixty-seventh birthday with a wedding ceremony. Young Nelly married his nephew, Lawrence Lewis. They lived at Mt. Vernon until they were given a portion of land of Mt. Vernon and their home, Woodlawn.
After riding the grounds of Mt. Vernon one day, George returned home with a severe cold. He died December 14, 1799. Martha was too grief-stricken to attend the funeral. Upon his death, she closed the door to their bed chamber and moved herself to a tiny, plain garret chamber on the third floor of the mansion, directly over Nelly's bedroom. Twenty days before her beloved grandfathers death, Nelly gave birth to her first child, Frances Parke Lewis. She was unable to be with him in his final hours. The baby was a joy to Martha, and lessened the pain, somewhat, of her grief.
The will of George Washington ordered the freedom of half of his slaves, leaving the old and the young to remain. Martha freed them all in 1800. Her own health was deteriorating and in March of 1802, sensing her death, she made a will. She then burned all her letters she and her husband had written to one another over the years, except for two.
May 22, 1802, Martha Dandridge Custis Washington breathed her last with her beloved granddaughter Nelly nearby. She was entombed next to her husband at Mt. Vernon.
Courtesy National Center for the American Revolution/Valley Forge Historical Society
---