Historic Valley Forge
Benedict Arnold: Page 4
Arnold's seniority was subsequently restored, but he was already too angry to forgive Congress, and never would. He was now also crippled, a blow to his pride after being such an actively athletic man. He spent the winter of 1777-1778 with the army at Valley Forge. On May 30th, 1778, Benedict Arnold signed the Oath of Allegiance to his country. It was signed at Artillery Park in Valley Forge and witnessed by Henry Knox. After the evacuation of the British in Philadelphia, Washington appointed him commandant of the city.
In Philadelphia, still recuperating, he met Peggy Shippen, a boisterous young woman, the youunget of the three daughters of Judge Edward Shippen. (William Shippen, his cousin, was surgeon general to the Continental Army.) Arnold pursued and wooed Miss Peggy Shippen, and after some misgivings on her part and the hesitation of her father, Arnold finally succeeded. Peggy was eighteen and Arnold was thirty-eight when they married in April of 1779. Peggy was friends with John Andre and other British officers, and was likely complicit in Arnold's later treachery
His marriage into the Shippen family brought him social status, but he couldn't afford the luxurious lifestyle. The couple lived well beyond their means, and Arnold entered into some shady business dealings, including shipping, real estate speculation and authorizing the use of government supplies for his own personal needs. With people in Congress eyeing everything he did, he was soon brought up on charges and was court-martialed in June of 1779. He defended himself, furiously as always, but was found guilty on two charges: using government wagons for his personal use and issuing a pass to a ship he later invested in. Washington pronounced the charges "imprudent and improper" and "peculiarly reprehensible."
By this time, Arnold had already begun bargaining with the British. Why would a man commit treason against his country, especially one who had fought so valiantly? We can only speculate. He was certainly angry and hurt over the many slights he received over the years. He probably felt unappreciated by his country and those he fought with, even sacrificing his own leg for the cause. His pride was most likely the biggest piece of his life that was damaged — humiliation was always an affront Arnold could never take. Money, of course, played a big part. He was offered in excess of 10,000 pounds and a commission in the British military.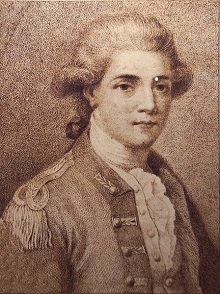 The bounty Arnold offered the British was West Point. He began correspondence with Major John Andre, who had been friends with Peggy Shippen Arnold during the Philadelphia occupation. Andre was an adjutant general and intelligence chief of Sir Henry Clinton, who was then Commander-in-chief of all British forces in America and served as the courier between Arnold and Clinton.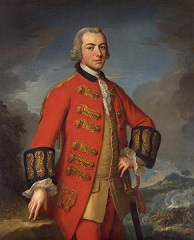 With his ship forced back by American troops, Andre was sent on foot back to British lines with a pass from Arnold as well as documents for Clinton in his sock. He was captured and placed into American custody when the documents were found. Arnold heard of his capture and was able to make his escape on the same ship on which Andre had arribved, the Vulture.
Andre was put on trial, and met his death as a spy. Arnold defected to the British and received substantial remuneration for his defection. These included pay, land in Canada, pensions for himself, his wife and his children (five surviving from Peggy and three from his first marriage to Margaret) and a military commission as a British Provincial brigadier general.
The British provided handsomely for Arnold, but never completely trusted him. He was never given an important military command. They moved to London where he found no job, some admiration and even some contempt. He moved his family to Canada where he reentered the shipping business. The Tories there disliked him and had no use for him, and eventually he returned his family to London. When the fighting began between France and England, he tried again for military service, but to no avail. His shipping ventures eventually failed and he died in 1801, virtually unknown, his wife joining him in death three years later.
---
Bibliography:
Flexner, James T.,The Traitor and the Spy. New York, 1953.
Van Doren, Carl. Secret History of the American Revolution. Garden City, 1941.
The Picket Post. Various articles, authors. 1947-1961. The Valley Forge Historical Society.
Billias, George Athan, Editor. George Washington's Generals and Opponents: Their Exploits and Leadership. Da Capo Press, New York, 1994.
Martin, James K. Benedict Arnold, Revolutionary Hero: An American Warrior Reconsidered
Courtesy National Center for the American Revolution/Valley Forge Historical Society
---