Society Hill
---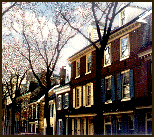 Named after the long defunct Free Society of Traders, this area of Philadelphia extends from Walnut to Lombard Streets, from Front to 8th Street.
The Society for which Society Hill is named is now defunct. The Free Society of Traders, a stock company to whom William Penn made liberal concessions of land and privileges, encountered virgin territory and woodlands stretching westward to the Schuylkill. They found some Dutch and Swedes living here as well. Though by 1683 the Society's assets already included a sawmill, a glasshouse, and a tannery in Philadelphia, but two score years later they were bankrupt. The Assembly put the property of the Society in the hand of trustees in order to pay its debts.
Home to many members of the federal government when Philadelphia served as the nation's capital, the area also attracted the locally wealthy and international nabobs as well. As the land juxtaposed the river and the seat of government, it was the most valuable in the city. From greed and speculation, lots were divided and divided again. The result: the serpentine walkways, abrupt angles, and tiny alleys that today make the area so appealingly intimate.
Over decades the area lost its cachet and ultimately became a dilapidated slum with a massive food distribution center located on Dock Street in the area of the Merchant's Exchange. The city seeking to improve its image, under the leadership of Edmund Bacon and Charles Peterson, tore down many buildings and homes and had the food distribution society relocated to South Philadelphia. Historic colonial houses were acquired by the Philadelphia Redevelopment Authority who sold them to private citizens along with a binding agreement that the individuals restore the buildings. In this way, about 600 historic houses were renovated. Empty lots were filled by contemporary houses which tried to merge contemporary style with a colonial heritage.
---
George Whitefield, a Calvinist Minister who led the "Great Awakening" spoke in Society Hill before 25,000 people in a single day in 1740. Whitefield, it is said, could make people weep or tremble by the various ways he uttered the word "Mesopotamia."
Edmund Bacon (1910-2005), who spearheaded the effort to revive the historic neighborhood was on the cover of Time in the 1960's and was the father of actor Kevin Bacon.
---
Location: The area is loosely defined as the land between the Delaware River and Washington Square (5th Street), bounded by Walnut Street to the North and Lombard Street to the South. (Map)
Tourism information: Sites open to the public in Society Hill include the Powel House and the Hill-Physick-Keith House.
Facilities: Outdoor seating along the way.
Official website: www.societyhillcivic.com
---