Society Hill Synogogue
---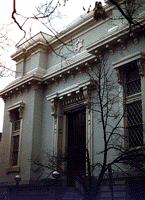 A synagogue that was once a church, it was built by premiere Philadelphia architect Thomas U. Walter.
This synagogue originally housed the Spruce Street Baptist Church and was designed by Thomas U. Walter, one of America's foremost mid-19th-century architects — who happened to be a member of that original Baptist congregation.
Anyone who has gazed at the dome on the U.S. Capitol will be familiar with the work of Walter, a Philadelphia architect. Walter also designed the Capitol Building's wings which house the U.S. Congress. A founding member of the American Institute of Architects who was comfortable working in various styles, Walter designed Philadelphia's Gothic Moyamensing Prison and Founder's Hall at Girard College, a marvel of Greek Revival architecture. The debtor's wing of Moyamensing, known locally as Moko, was designed in Egyptian Revival Style; Founder's Hall is a Parthenon-inspired, Greek Revival work which took Walter 14 years to complete.
Walter was 25 years old when he was chosen to design the First Baptist Church in 1829. About 20 years later, Walter was re-commissioned by the congregation once again, this time to design a new front for the church. Eschewing the prevailing Gothic and Palladian styles, Walter went with a fanciful Italianate design which featured two symmetric towers capped with spires.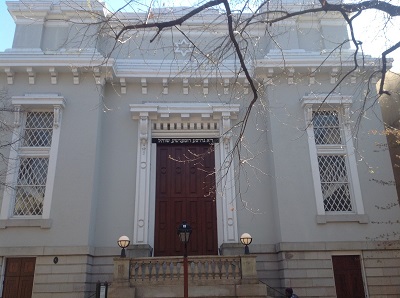 Baptists have been a presence in Philadelphia since 1698 when The First Baptist Church was founded. In 1829, a schismatic group numbering about 60 left that First Baptist Church to form this church on Spruce Street using the same name. Later on the congregation changed the name to Spruce Street Baptist Church.
Over time the ethnic and religious composition of the neighborhood changed. In 1908 the Baptist congregation moved 46 blocks west to 50th and Spruce Streets. In 1912, the building was converted to a Jewish house of worship by a group of Rumanians, and ultimately the structure became known as the Great Rumanian Synagogue. Naturally, the building's design was altered and Walter's towers were taken down at this time.
By the 1960s the synagogue, like much of the rest of the Society Hill neighborhood it was part of, had fallen into disrepair. In 1966, the building was deeded to the Society Hill Synagogue. The next year, restoration was started with drawings culled from the archives of the Philadelphia Contributionship, a fire insurance company — by happy coincidence the Contributionship was also designed by Thomas U. Walter!
Society Hill Synagogue (ohr hadash/Agudat Ahim = New Light/One Family) is a liberal egalitarian congregation rooted in the texts of Conservative Judaism. A diverse group with members from all over the Delaware Valley, the active congregation offers a wide range of religious, educational, cultural, and social programs.
---
Thomas U. Walter, the building's architect, also designed the Senate and House wings and the dome of the U.S. Capitol.
---
Location: 418 Spruce Street in Society Hill (Map)
Built: 1829-30; restored 1968
Architect: Thomas U. Walter; restored under the supervision of architect Henry J. Magaziner.
Tourism information: Hours Mo-Th 9:00am-4:00pm. Free admission. Closed Sa. Open Su. by appointment. Groups welcome. 215-922-6590
Services: Fr night, Sa morning, Jewish holidays
Official website: www.societyhillsynagogue.org

---

Thank-you to Rabbi Ivan Caine of the Society Hill Synagogue for reviewing the information on this page. (July 2000)

---