Edgar Allen Poe House
---
Antiqued parchment poster of "The Raven" in Poe's own distinctive handwritting.
Buy Now! Only $9.95
---
Poe lived in Philadelphia for 6 years.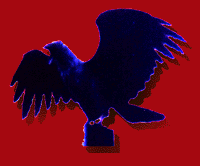 While living in Philadelphia, Edgar Allan Poe wrote:
"Murders in the Rue Morgue"
"The Pit and the Pendulum"
"The Tell-Tale Heart"
"The Black Cat"
"The Gold-Bug"
"The Fall of the House of Usher"
"The Masque of the Red Death"
"The Purloined Letter"
"The Cask of Amontillado"
"A Descent into the Maelstrom"
"William Wilson"
"The Man of the Crowd"
"The Oval Portrait"
He also was likely to have begun work on "The Raven" here.
---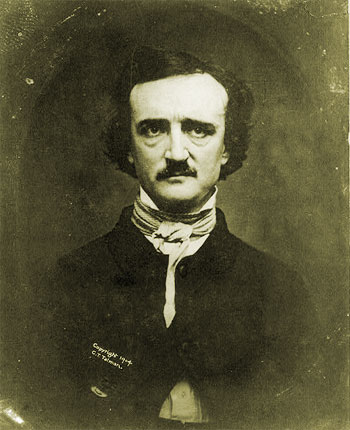 Edgar Allan Poe lived in Philadelphia for about six years (1838-1844), spending his last year to 18 months at a house on North 7th Street. With him lived his beloved wife Virginia, his treasured mother-in-law Maria Clemm (whom he called Muddy), and their adored feline, a tortoise-shell tabby named Catterina.
Poe came to Philadelphia, which was at the time the literary center of the United States, boasting many publishers of books and magazines. Six years before his arrival, Poe had already sold a handful of tales to The Philadelphia Saturday Courier. He now hoped to land a job working on a magazine which would provide him both stability and the money needed to continue writing.
Poe arrived in Philadelphia with a patchwork resume reflecting a man whose career consisted of starts buoyed by optimism and terminations clouded by peevish fits. That record would continue during his tenure in Philadelphia.
LITERARY PHILADELPHIA
Poe's first writing endeavor in Philadelphia was hardly literary. A publisher seeking to bring luster to a science project had Poe write an introduction to a work called, "The Conchologist's First Book" (a conchologist studies the shells of mollusks). It seems by many accounts that Poe's introduction was based heavily on a treatise published in Scotland which went uncredited. In some sentences, Poe didn't bother to change the original author's phrasing at all. Poe, often quick to accuse other authors of plagiarism (notably Longfellow), often was accused of the very same crime.

Read transcript of online discussion
of Edgar Allan Poe with Professor Robert Regan, University of Pennsylvania
Poe freelanced for a year writing reviews and fiction before landing the position of editorial assistant at Burton's Gentleman's Magazine. William Burton was a popular actor on the Philadelphia stage who established his magazine in 1837. A bon vivant who knew Dickens and other literati, Burton introduced Poe to Philadelphia's artistic circles. And Poe, according to some biographers, thought Burton was a writer of merit.
It was at Burton's in 1839 that Poe truly embarked on his career as a litterateur, or a man of letters. In addition to his editorial duties, he sold the now classic "The Fall of the House of Usher" for $10 to Burton's. Realizing that Poe only received a sawbuck for this work goes a long way in understanding the grotesque impecunious circumstance which shackled him his entire life. He subsequently published in Burton's "The Man Who Was Used Up," "Man of the Crowd" and "William Wilson," a tale whose main character had a split personality.
In 1840, while still at Burton's, Poe completed a deal with the publishers Lea & Blanchard to issue a collection of his stories as a two-volume work entitled "Tales of the Grotesque and Arabesque." The nearly impoverished Poe, however, received no monetary recompense for this. The publishing house printed 1,750 copies at their own cost — and took all the profits. All Poe received in return were a few free copies of the book and a chance to enhance his literary reputation. Additionally, Poe did retain the copyright. But, sales of the book were slow.
The next year Poe wrote the publishing house asking if they might now be interested in a new collection of prose tales using the same meager terms as his 1840 deal. Three days later came a letter from the publishers rejecting even this slight request. The poet Poe would remain poor. Ironically, the 1841 letter Poe wrote to Lea & Blanchard inquiring as to their interest in publishing this collection sold for $3,000 at a 1944 auction.
In 1840, Poe left Burton's magazine. Some biographers attribute his departure to drinking; others to disagreement with Burton over literary matters. Shortly after Poe left, the multi-talented Burton sold his magazine, because he needed capital to launch a new theater.
Burton's Magazine was bought by George Graham who renamed it Graham's Magazine. Shortly after Graham's purchase, Poe landed an editorial position at the magazine — some biographers say he came with the magazine. Under Poe's tenure at Graham's the magazine's circulation flourished. While Poe made only $800 a year at Graham's, the magazine's profits for that year were a substantial $25,000.
The birth of a genre — the detective story — occurred when Graham's published Poe's story, "The Murders in the Rue Morgue." Poe called his new work an example of "ratiocination," or the process of exact thinking. Howard Haycraft, in his critique of gumshoe lit, "Murder for Pleasure," noted that many of the conventions of detective tales and modus operandi of sleuths from Sherlock Holmes to Miss Marple, and from Jessica Fletcher to Columbo, are to be found in Poe's genre-creating tale.
"The transcendent and eccentric detective; the admiring and slightly stupid foil; the well-intentioned blundering and unimaginative official guardians of the law; pointing the finger of unjust suspicion; the solution by surprise; deduction by putting one's self in another's position (now called psychology); the staged ruse to force the culprit's hand; even the expansive and condescending explanation when the chase is done; all these sprang full-panopolied from the buzzing brain and lofty brow of the Philadelphia editor."
In part due to Poe's literary acumen, Graham's became a big player in the literary world of the mid-19th century. Graham hired prominent editors such as Poe and Rufus Griswold. In turn good editors and good pay attracted top-notch authors such as Nathaniel Hawthorne, Washington Irving, and Oliver Wendell Holmes to Graham's.
(In Poe's will he named Griswold as his literary executor. Two days after Poe's death Griswold authored a slanderous "memorial" piece in The New York Tribune attacking Poe's character. Later, while editing Poe's work, Griswold rewrote many of Poe's letters and likely forged other letters entirely. Poe's literary reputation suffered for years because of Poe's poor choice of an executor who was likely jealous of a far superior talent.)
In January 1842, Poe's beloved wife, Virginia Clemm, ruptured a blood vessel while singing. She recovered partially then relapsed. Her remaining five years would prove a cycle of recuperation and relapse. Poe's mental health mirrored the state of Virginia's health — flowing between optimism when she was healthy and drunken insanity was she was in decline.
Poe left Graham's in May of 1842 it seems in part because of his concerns over Virginia's health, and in part to devote himself to full-time writing.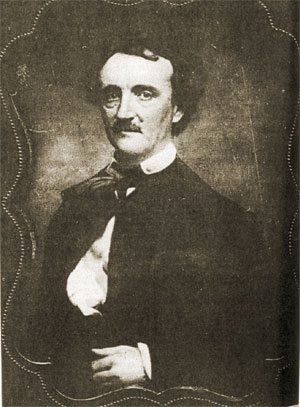 POE-POURRI
Another Philadelphia outlet for Poe's writing was Godey's Lady's Book edited by Sarah Josepha Hale. The Lady's Book was an attempt to publish a fashion and society magazine aimed at women unlike any published in the States heretofore. Louis Godey realized immediate success, though the early issues contained very little original writing. He lured Sarah Josepha Hale, the foremost female editor in the states, from Boston to edit his magazine. Though Hale today is remembered for penning "Mary Had a Little Lamb," in her time she had an eye for top talent and Godey's paid top dollar to authors including Poe. "The Cask of Amontillado" was published exclusively in Godey's Lady's Book in 1846.
Eliza Leslie, a successful cookbook author turned editor, also published Poe pieces. She edited an annual publication called The Gift for Lea and Carey and encouraged Poe by buying several stories including "The Pit and the Pendulum" and the "Purloined Letter" from him.
Other Poe works written in Philadelphia include his second detective story, "The Mystery of Marie Roget," "The Black Cat," and "The Gold-Bug" — which won a prize in The Philadelphia Dollar Newspaper in 1843. Puzzle-lovers particularly should read this classic featuring cryptograms and conundrums.
In 1843, a volume entitled "The Prose Romances of Edgar A. Poe" was published in Philadelphia and priced at 12-1/2 cents.
John Sartain, a painter and publisher of Sartain's Union Magazine, issued Poe's "The Bells" in its complete form in November, 1850. Sartain in his book of reminiscences told how the poet revised and enlarged that dramatic piece — at least three versions having been made.
ALL IN ALL HE SHOULD HAVE STAYED IN PHILADELPHIA
On April 6, 1844, hoping to secure a backer for his own literary magazine, Poe left Philadelphia for New York. Once he left the City of Brotherly Love, Poe's life spiraled out of control. Though "The Raven," published in New York, brought him tremendous acclaim, the poverty and drunkenness which dogged him his entire life finally got the best of him. In 1847, a visitor to his unheated home found his ill spouse Virginia in bed covered only by both Poe's overcoat and their dear tabby Catterina. Poe's beloved wife died shortly after. Poe continued looking for his El Dorado in the form of a literary backer. In 1849, just as he thought he had beaten his demons and found a literary backer, Poe died on the way to meet with his angel.
RIDE BOLDLY RIDE
Poe's years in Philadelphia were his most productive. He published over 30 short stories and started receiving positive reviews for his work. The issue of the newspaper which printed "The Gold-Bug" sold out immediately and helped to win Poe a wide popular readership. Three volumes of his works were published and perhaps, above all, he invented a literary genre — the detective story. In searching for our own El Dorado, Poe leaves readers the following signpost:
"Over the Mountains
Of the Moon,
Down the Valley of the Shadow,
Ride, boldly ride,"
The shade replied, --
"If you seek for Eldorado."
(from "Eldorado" by Edgar Allan Poe)
THE HOUSE ITSELF
It's not known exactly how long Poe lived at the 7th Street address. The Poe family moved in sometime in 1842 or 1843 and left in April 1844. Poe rented this house, as was his custom. Historians do not know whether the house was furnished when the Poes arrived. Any furniture and belongings relating to the Poes at this address has vanished. Congress chose the site as a national memorial to Edgar Allan Poe in 1980.
An eight-minute film on Poe's life and a room with biographical and critical information on Poe greet the visitor to the Poe House. This part of the memorial is actually part of what was a neighboring house. The visitor next walks into the house where Poe actually lived.
The Park Service deserves praise for choosing not to refurnish the house with period furniture. The visitor walks through empty rooms, floors agroaning. The walls are a palette of peeling paint; the fireplaces, cold brick maws. Then a sound. A tapping and rap rap rapping. It is your heart bursting at its chamber walls.
---
The 1841 letter Poe wrote to Lea & Blanchard inquiring as to their interest in publishing a collection of his prose tales sold for $3,000 at a 1944 auction.
Poe dedicated his "The Raven and Other Poems" to Elizabeth Barrett Browning. Poe considered his fellow poet, "the lovliest of her sex."
Some critics believe "The Raven" was started at the house on 7th Street in Philadelphia, though finished in New York.
Poe earned money privately editing the poetry of others. The husband of Mrs. St. Leon Loud, a Philadelphia hostess, offered Poe $100 to edit his wife's poems.
Poe's middle name comes from his foster father John Allan.

---
Location: 532 N. 7th St. (NW corner 7th and Spring Garden Streets) (Map)
Publicly opened as a memorial to Poe: 1980
Tourism information: Open Friday through Sunday, from 9am to 12noon, and 1pm to 5pm. Special events on Halloween week. Free admission. 215-965-2305
Facilities: Bathrooms. Many books by and about Poe are for sale.
---