South Street
---
Note: While the vibe of South Street remains the eclectic blend of weirdness it always has, specific businesses and enterprises on Philly's strangest street change constantly. Some of the information in this section may be out-of-date. Rest assured that if a business mentioned below isn't there anymore, something equally interesting is probably there in its place.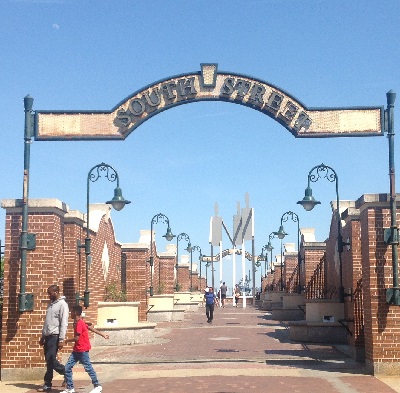 "Where do all the hippies meet? South Street, South Street!"
("South Street" by the Orlons)
South Street is Philadelphia's hip strip and trendy melting pot. Here you'll find a many-splendored promenade alive with bizarre boutiques, eccentric shops, singular restaurants, bars, night clubs and cafes — and where the people-watching is as fun as the window-shopping. Aging hippies, the fashionably unfashionable, tongue-piercers, spike-haired skateboarders, and even nuclear families commingle comfortably on this eclectic and electric swath. If you feel a bit self-conscious because you're old enough to remember the above lyric from the 1963 hit rock-'n'-roll tune, just relax — like the song says, "it's the hippest street in town."
The many specialty shops of South Street cater to punks, rastas, hippies, bikers, and all those whose tastes run off the beaten path. Chain stores and restaurants arrived in full force in the '80s, but have done little to homogenize this center of counterculture. Though the occasional big chain appears, South Street retains its chic boutique mystique.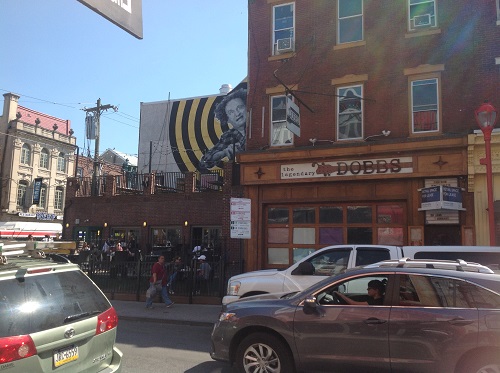 A party atmosphere prevails, especially on weekend nights. Mardi gras in in the air all year 'round at Fat Tuesdays. Other popular bars and night clubs including Tattooed Mom and the (self-proclaimed) legendary J.C. Dobbs.
Bob and Barbara's bar at 15th and South is a throwback to the smoky bebop days, with cracked red bar stools and a bar sanded smooth by decades of beer bottles. Jazz-lovers will bow before the jukebox — a shrine to Basie, Parker, and Lady Day. Home of the original "Citywide special", a can of Pabst and a shot of bourbon for $3.00. At Broad and South a historic marker honors Lady Day — Billie Holiday — a reminder of the time when South Street was Philly's jazz central.
Interested in getting your navel, nipple, or tongue pierced? Or getting some new ink? Tattoo and piercing parlors are concentrated in this area, especially on 4th St, between South and Bainbridge.
By the time you read this, there may or may not be a Starbucks on South Street. Rest assured there will certainly be several non-Starbucks options for hot beveredges. These come and go frequently, but you won't have to go more than a few blocks down South Street before you can get your java fix.
Though the street has many fine restaurants, some bear special mention. Famous 4th Street Deli has been operated by the same family for three generations. It's also the best deli in town — lox, stock, and bagel. A reminder of the days when the area was a thriving Jewish community and a fabric center. While Genos and Pat's generally vie for the title of best cheese-steak in Philadelphia, some Philadelphians swear by Jim's Steaks, on the corner of 4th and south. Take your steak upstairs and enjoy the show on the street below.
Most of the action on South Street takes place between Front and Ninth Streets, but you can find some gems a little further west. Galleries, music stores, and restaurants can now be found between 10th and 16th on South, including Harry's World, a shop catering to the Voodoo community with all you need for spells and potions.
No trip to South Street would be complete without a visit to the Magic Gardens between 10th and 11th, Mosaic artist Isaiah Zagar's incredible decades-in-the-making collection of tile, mirror, broken pottery, and found objects assembled into a dizzying walk-through collage.
---
Zipperhead, a one-shop stop for everything from leather to nose rings, to handcuffs, was immortalized in a 1980s song by the Dead Milkmen. Once a fixture of South Street, Zipperhead is, alas, no longer in existence.
"South Street" rose to #3 on the Billboard charts in 1963 for the Orlons, a Philadelphia quartet, who also sang "Wah-Watusi," "Don't Hang Up," and "Shimmy Shimmy."
Walk to the east end of South Street, cross the bridge and you are at Penn's Landing.
---
Location: East-west street, five blocks south of Independence Hall. The most developed section runs 9 blocks, from the river west. (Map)
Tourism information: Lots of bars, restaurants and shops for jewelry & crafts, antiquities & gifts.
---