The Curtis Center
---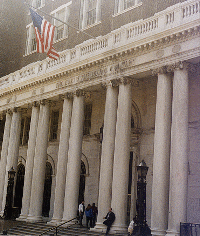 Home of the Ladies Home Journal and the wonderful Dream Garden.
The Ladies' Home Journal. Jack and Jill. The Saturday Evening Post. America's love affair with magazines truly began with Curtis publications. In 1883, Cyrus Curtis successfully founded Curtis Publishing and never looked back. One of his earliest triumphs, The Ladies Home Journal, still dominates at the supermarket checkout racks. Holiday, American Home, and Country Gentleman, were other Curtis publications that were at the forefront of magazine sales for many years.
Do not miss the chance to view the spectacular glass mosaic Dream Garden in the lobby.
---
Original home of the Ladies' Home Journal
Dream Garden mosaic by Parrish and Tiffany Studio dominates the lobby
Curtis's daughter, Mary Louise Curtis Bok Zimbalist, founded the Curtis Institute of music.
---
Location: 601-45 Walnut Street (Independence Square West) (Map)
Built: 1890s
Style: Georgian Revival
Commissioned by: Cyrus Curtis
Tourism information: Mo-Fr 8am-6pm; Sa 10am-1pm. Atrium level 215-238-6450
Facilities: Restaurants, health club, hair salon, copy center