The Bourse
---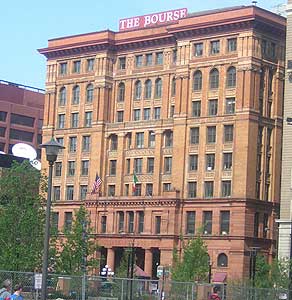 For the exchange of commerce...then and now
A Bourse is a stock exchange. The Philadelphia Bourse was the first in the world to house simultaneously a stock exchange, maritime exchange, and grain-trading center. Under the guidance of Philadelphia businessman George Bartol, the exchange thrived, but as the business community moved westward in the city the sun started setting on the Bourse. In 1982, the Bourse was renovated to a combination shopping mall and office complex.
Today it remains an impressive architectural specimen and home to a variety of shops and eateries. You can also catch an artsy movie at the Ritz at the Bourse, a movie theater that features avante-garde and Independent films.
---
---
Location: 111 S. Independence Mall East
Built: 1893-95
Architect: The Hewitt Brothers
Tourism information: Mo-Sa 10am-6pm; Su (Spring to Fall) 11am-5pm. 215-625-0300
Facilities: Shopping and restaurants. School Groups are welcome.