Federal Reserve Bank of Philadelphia
---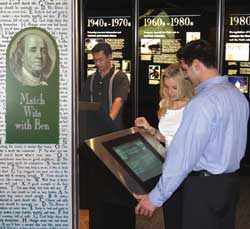 Our nation's central bank.
The Federal Reserve System, the nation's central bank, is a network of 12 Reserve Banks. The Federal Reserve Bank of Philadelphia is responsible for the Third District, which covers eastern Pennsylvania, southern New Jersey, and the state of Delaware.
Learn the story of central banking in the United States in the city where banking was born — Philadelphia, the home of the first Bank of the United States.
Like all Reserve Banks, the Philadelphia Fed has a large and varied constituency, including depository institutions, local businesses, consumers, investors, educators, and community groups.
The Money in Motion exhibit helps you understand the complex relationships of money, banking, and the Federal Reserve System. Trace the changes in our national currency from the early 1600s to today. Learn the Fed's role in maintaining national financial stability, especially in the days following September 11 and the global financial crisis of 2008
Explore in-depth our country's monetary policy over the past five decades. Learn what indicators the Fed monitors to predict the economic future. Delve into the world of payment and debit cards in the electronic age.
---
25-foot tower of shredded bills totaling $100 million
See a currency cart representing $1,650,000 in $5 bills
Test your skills at detecting counterfeit money
Learn about the new security features on the latest currency
Match wits with Benjamin Franklin and test your knowledge of money
View money from the original 13 colonies
Examine a rare $100,000 bill
---
Location: 10 Independence Mall, corner of 6th and Arch Streets (Map)
Tourism information: Mar-Dec: Mo-Fr 9:30a-4:30p; Jun-Aug: Mo-Fr 9:30a-4:30p, Sa 10a-4p, Su noon-4p. Toll-free: 866-574-3727
Facilities: Exhibition. Free.
---