The House & the People Who Worked & Lived in It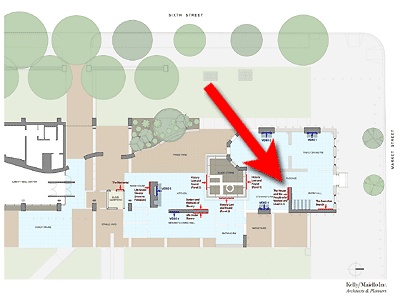 A BRIEF HISTORY OF THE PRESIDENT'S HOUSE
| | |
| --- | --- |
| Before | For hundreds of years before 1630, Algonquian peoples resided here. |
| 1630 | Arrival of Europeans in Delaware River Valley. |
| 1767 | Built by Mary Lawrence Masters, a rich widow. |
| 1772 | A wedding present to daughter Polly and Lieutenant Governor Richard Penn. |
| 1777 | Headquarters of General Sir William Howe, leader of British forces, during the British occupation of Philadelphia. |
| 1778 | Headquarters of Major General Benedict Arnold whose betrayal of the Revolution begins here. |
| 1782 | Major fire in 1780. Financier Robert Morris buys the newly reconstructed residence. |
| 1790 | Philadelphia becomes the national capital. Additions are built for George Washington's residential and official purposes. |
| 1797 | Newly elected President Adams moves in. |
| 1800 | After government departs for Washington D.C., the house was converted into Francis's Union Hotel, then became shops and a boarding house. |
| 1832 | House demolished. Three stores are built within the gutted space, leaving only the side walls and foundation of the former House. |
| 1935 | Unappreciated as historically significant, the stores are demolished, exposing the side walls. |
| 1951 | Last remaining walls unknowingly demolished to create Independence Mall. |
| 1954 | Public restroom for Independence Mall built on the site. |
| 2003 | The Liberty Bell Center opens, partially covering the site of the former slave quarters. A public uproar — initiated by African American citizens, historians and others — ensues. Philadelphia's African American community and Avenging the Ancestors Coalition fight to commemorate the house and its residents. |
| 2007 | Archeology reveals foundations of several areas. |
| Today | You have the opportunity to explore this site and discover its important place in American history. |
THE ARCHITECTURE
The President's House
This is the site of the official residence of the first two presidents of this young nation, the United States of America. From 1790 to 1797 President George Washington and his extended family lived here; and, from 1797 to 1800 President John Adams lived in the house that once stood here. As you think about these rooms, look closely at the artifacts; listen carefully to the stories of the people who lived here. Many may be new to you.
Ground Plan from 1781
This plan shows the President's House as it was in 1781 when Robert Morris contracted to purchase it. Though modified by President Washington before he moved in, this plan is consistent with later descriptions of the house during Washington's presidency.
VISITORS TO THE PRESIDENT'S HOUSE
OFFICIALS
Many dignitaries arrived to meet or dine with the President, including men who would become presidents themselves — Thomas Jefferson, James Madison, James Monroe, and John Quincy Adams. Visitors also included Supreme Court justices, cabinet secretaries and congressmen.
AMBASSADORS
Foreign ambassadors and emissaries were welcomed, including Joseph Bunel, from Haiti. Bunel was sent to strengthen economic ties by Touissant L'Ouverture. L'Ouverture led the Revolution that liberated the enslaved Africans in St. Domingue (Haiti), creating the first black-governed republic in the Western hemisphere. President Adams enabled trade that was beneficial to both new republics.
INDIAN DIGNITARIES
Washington and Adams met with more than forty delegations from Indian nations. President Washington met here to settle tribal land claims with Thayendanegea, also known as Joseph Brant, a Mohawk warrior and respected military leader of the Iroquois Nations. Washington also invited a Chickasaw Indian delegation to the President's House to negotiate territory boundaries. It is believed Chief Piomingo, as well as Chief George Colbert, Chief William Glover, met with Washington in the State Dining Room. Many of these treaties were breached over time, and eventually all tribal lands were confiscated by the United States.
HOUSEHOLD LABOR
ENSLAVED AFRICANS IN THE PRESIDENT'S HOUSE
Both Washington and Adams had hired help, but, George and Martha Washington also brought at least nine enslaved Africans from their Mount Vernon estate to Philadelphia; these include their cook Hercules; Martha's personal maid, Oney Judge; Oney's brother Austin; as well as Moll, Christopher, Giles, Joe, Richmond, and Paris.
ARTISANS & LABORERS
Many artisans, mechanics, and free laborers lived in Philadelphia in the 1790s. They were essential to the city's prosperity, and, some worked at the President's House during both Washington's and Adams' terms.
INDENTURED SERVANTS
George Washington also had indentured servants at President's House; most worked there for a three-year term without wages in exchange for housing, food and training. At the end of the indenture, the servant would be a free person.
SLAVERY IN THE PRESIDENT'S HOUSE
Washington & Mount Vernon
Mount Vernon, Washington's 2,500- acre estate in northern Virginia, made him one of the wealthiest men in the 1790s. In addition to dozens of hired people and indentured servants, both black and white, Washington controlled the lives of more than 300 enslaved Africans.
Martha Washington & the "dower slaves"
Martha Dandridge Custis, the widow of Daniel Custis, married George Washington in 1759. The Custis estate included 17,500 acres and 285 enslaved men, women, and children. As a widow she received the lifetime use of, and income from, one third of his estate, including at least 85 of the enslaved. The rest was held in trust for her son and his heirs.
When they married, George Washington became the manager of Martha's holdings; however he did not own them. In his will, George Washington freed the 124 enslaved men, women arid children he personally owned. Though he claimed to struggle with the idea of slavery, he also acknowledged their economic importance for the plantation. It is possible that Martha Washington may not have been legally able to free the more than 200 enslaved people who were in the Custis' trust for her son's children, though it is clear she made no attempt to do so. These "dower slaves" were divided among her heirs, breaking up African families that now had some free and some enslaved members. While others chose to free enslaved Africans during their own lifetime, the Washingtons did not.
Washington's Deceit
Pennsylvania's Gradual Abolition Act (1780) granted freedom to any enslaved person who resided there for at least six months, and the law was amended in 1788 to prohibit non-residents from moving enslaved persons out of the state to evade thethe law. The Washingtons permitted this transfer near the end of a six month period so the enslaved in their household were not protected by the state law; there is a document suggesting this be covered up to create as little notice as possible.
Daring to Escape
In 1793, while residing here, Washington signed a fugitive slave law that provided for the return slaves who had escaped and crossed state lines.
Several of the Washington's enslaved attempted a run to freedom, but only two succeeded, Hercules, from Mount Vernon, and Oney Judge, from Philadelphia. Though still a fugitive, Hercules was emancipated after Washington's death; but Oney Judge Staines, who escaped to New Hampshire, married and lived as a fugitive until she died in 1848. In hiding, her life was constantly endangered and she lived in dire povert. As you walk through the President's House, be aware that you are following in the footsteps of enslaved Africans as much as those of the Founding Fathers.
---