Archaeology at the President's House: June 18, 2007
The root cellar (top 8 pictures) is six feet or so below the basement level and is dated to the 18th century. The exploration of the privy pit is completed and it was determined to be 19th century. Three wells are still being explored (see pictures below). The question is, where were the privy pits (bathrooms) in the 18th century to service the President's House? The last picture shows a curious vertical brick column where archaeologists believe the foundation wall for the President's Office would have been.
« Index of Archaeology Photo Galleries, Maps, etc.
All pictures ©2007 ushistory.org. Click pictures for enlargements.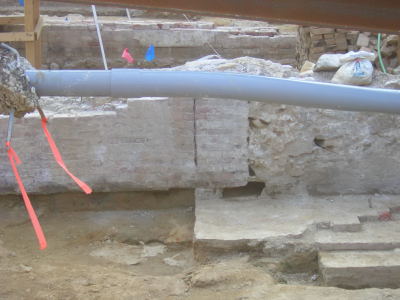 Nothing of the Bathing House (President's Office) has been found; however that vertical brick area at center is where the wall would be. More needs to be explored in that section of the excavation. This picture is taken from the eastern edge of the excavation looking at the eastern wall of the servant's passage.