Washington's Desk at the President's House
George Washington's presidential desk, usually exhibited at Mount Vernon, was on display Feb. 17-20, 2006 at the Atwater-Kent Museum of Philadelphia. The desk is attributed to New York cabinetmaker Thomas Burling and is modeled on a French style called bureau à cylinder. The desk, purchased by Washington on November 21, 1789, in New York City for £98 New York currency, was brought to Philadelphia in 1790. It is made of mahogany, pine, mahogany veneer, and maple inlay. The desk stands 66" high, 62" wide, and 35" deep and is estimated to weigh 350 pounds. The legs and finials are replacements. A mechanism retracts the roll top, when the writing surface is extended. When Washington returned to Mount Vernon at the end of his presidency in 1789, he left the desk to be sold at auction. Elizabeth Willing Powell purchased it for $245 on March 10, 1797, and placed it in her home at 244 South 3rd Street. The desk was in her family until 1867, when it was donated to the Historical Society of Pennsylvania by Charles Hare Hutchinson.
The Atwater-Kent Museum of Philadelphia is located at 15 S. 7th Street, across from the Declaration House and a block west of Independence Hall. Information on this page provided by the Atwater-Kent Museum. Pictures ©2014 ushistory.org
George Washington (
Dean Malissa
) poses at his presidential desk.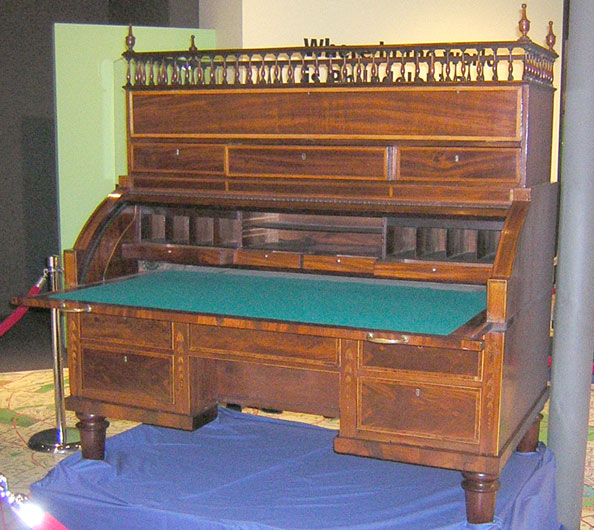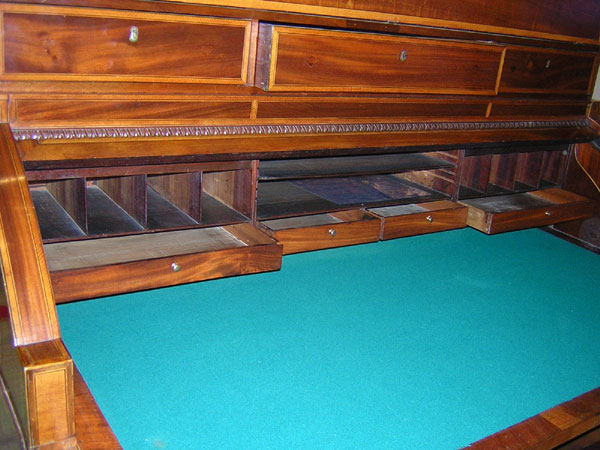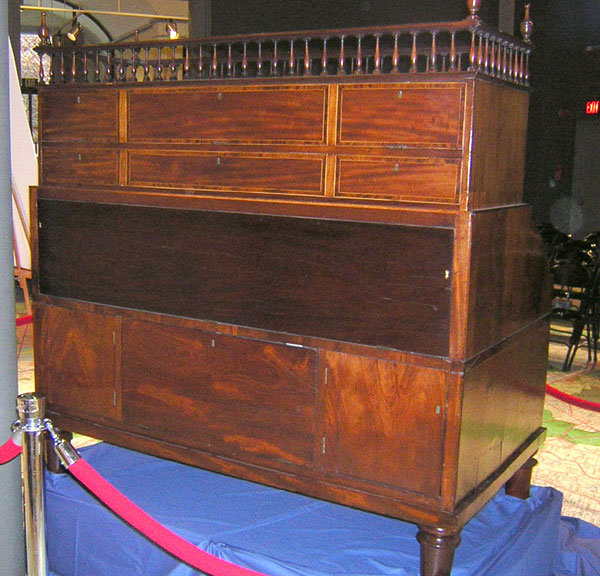 The desk seen from the back. Note the locked storage areas, a feature not common in this style. It is not known if Washington requested them.