James Logan
William Penn's secretary, statesman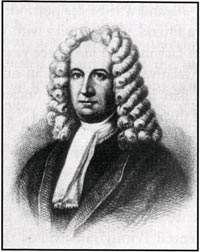 While a young man in England, Logan learned Greek, Latin, and Hebrew before he was 13. To those languages the polyglot added Spanish and French as well as a smattering of words from Indian languages. At the age of 25, Logan accompanied William Penn as his secretary on the founder's second trip to his colony.
Logan remained a trusted agent for the Penn family after William returned to England. Over time the learned Logan ascended to the head of the conservative Quaker party in the Assembly. He was also variously Secretary of the Province, President of the Council, and Chief Justice. While engaging in politics, Logan also embarked on a wildly successful fur-trading business which led to his becoming one of the wealthiest men in the Colonies. Profits from his business went into building Stenton, a still-standing 1725 mansion in Germantown (a section of Philadelphia) and to book collecting.
Logan's library was nonpareil in the pre-1750 colonies numbering over 2,000 volumes and included religious, philosophical, political, legal, scientific, mathematical, and literary works.
According to historian Frederick Tolles, Logan's copy of Newton's Principia Mathematica was copiously annotated. Further, Logan translated Cicero's De senectute into English from Latin and later gave Ben Franklin the honor of being the first in the New World to print and publish a translation of a classic work.
Logan's name endures in contemporary Philadelphia as a section of the city, a railroad station, a post office, a school, and a square on Philadelphia's Parkway graced by a landmark Alexander Calder, Jr. fountain.
Sources:
1. Independence Hall Association.