Adam Kuhn
Professor of Materia Medica and Botany, and third member of Penn's first medical faculty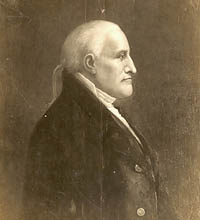 Adam Kuhn (November 17, 1741–July 5, 1817) was born in Germantown. He studied medicine with his father, Adam Simon Kuhn, a skilled medical practitioner and elder of the Lutheran Church. At the age of 20, he studied Botany under Carolus Linnaeus and other professors of the University of Upsala. He received his degree of Doctor of Medicine in Edinburgh on June 12, 1767.
His brothers were Dr. John Kuhn (a surgeon in the Revolutionary army) and Dr. Frederick Kuhn.
In January 1768, he returned to America, and was appointed Professor of Materia Medica and Botany in the College of Philadelphia, being the third member of Penn's first medical faculty. In 1789, he was made Professor of the Theory and Practice of Medicine (in 1792 the College was reconstituted as the University of Pennsylvania). Among his students was Philip Syng Physick.
In January of 1774, Kuhn was one of the physicians of the Society for Inoculating the Poor. He was a founder and President (succeeding William Shippen) of the College of Physicians, the first of its kind in America. He was also a member of the American Philosophical Society. Kuhn was twice elected to the Medical Staff of the Pennsylvania Hospital.
Sources
UPenn Archives
A Biographical History of Lancaster County, by Alexander Harris
The Journal of Foreign Medical Science and Literature edited by Samuel Emlen