Isaac Franks
Colonel, soldier in the Revolution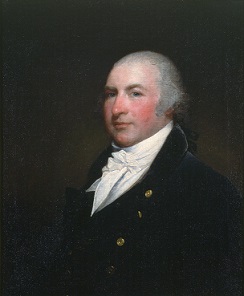 Although Franks was Jewish, he was a practicing Christian. He joined the Continental army at age 17 and fought the British in the battles on Long Island. He was captured in Manhattan but escaped to New Jersey in a leaky rowboat. There he joined the quartermaster division as an assistant foragemaster for Washington's main army. He was promoted to foragemaster and sent to West Point, where he received a comission as ensign in a Massachusetts regiment in 1781. He resigned the following year, married and moved to Germantown. He worked as a financial broker.
In 1793 he lent his house to George Washington, to live in while the Yellow Fever epidemic ravaged the capital of Philadelphia. Franks's home became the Germantown Whitehouse and Washington and his cabinet met within. In 1794 he received a commission as lieutenent colonel in the state militia. Franks died in 1822.
Sources:
1. Purcell, L. Edward. "Franks, Isaac." Who Was Who in the American Revolution. New York: Facts on File, Inc., 1993.