Benjamin Chew
Chief Justice of Pennsylvania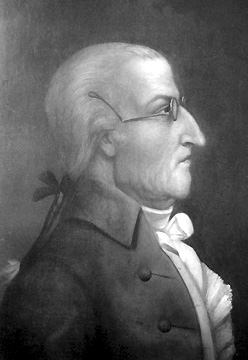 Benjamin Chew was born in Maryland to Quaker parents. His father, Samuel, a physician was later Chief Justice of what is now Delaware, but was then called the "Lower Counties" by the Proprietors — members of William Penn's family.
Benjamin read law with Andrew, the distinguished Philadelphia lawyer. Chew later studied in the Middle Temple in London and, on returning to Philadelphia, was admitted to the bar of the Supreme Court of Pennsylvania. Because of his friendship with the Penn family and his position on the Governor's Council, he was often in opposition to Benjamin Franklin. Chew was one of the commissioners who supervised the survey of the Mason-Dixon Line and was later appointed Register General, Attorney General and, finally, in 1774, Chief Justice of Pennsylvania. Chew built his magnificent estate, Cliveden, between 1763 and 1767.
Sources:
1. Marion, John Francis. Bicentenial City: Walking Tours of Historic Philadelphia. Princeton: The Pyne Press, 1974.