James Barron
Commodore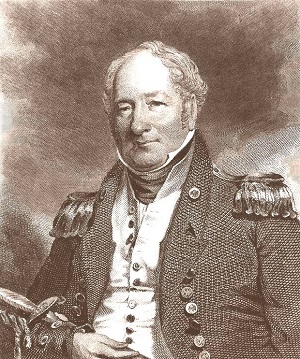 Commodore James Barron had barely reached open water on his ship Chesapeake when he was confronted by a powerful British frigate, Leopard. The Chesapeake was poorly equipped and had an unexperienced crew, as well as far inferior weapons to those of the British warship. The British demanded the return of four British deserters who were supposedly on the Chesapeake. Commodore Barron refused to comply with the order and the Leopard opened fire on Chesapeake, killing three and wounding eighteen. Barron ordered the flag lowered and Chesapeake surrendered. Barron's ship had only fired one gun.
Barron was born in Virginia about 1768 and grew up in a family of naval heritage. He spent some years on his father's ship, then joined the Navy as a Lieutenent. He was successful on his first tour on the frigate United States. Barron was promoted to Captain and commanded the frigate Essex under the his brother's squadron. Barron was later given command of the USS President. Then after five years he was promoted to Commodore and given control of the USS Chesapeake.
This confrontation between the Chesapeake and the Leopard took place on June 22, 1807 and is considered one of the major events which led to the outbreak of the War of 1812. Barron was court-martialed on charges of premature surrender of his ship. He insisted that his ship was defenseless against the more powerful British vessel. Still, he was found guilty for "neglecting, on the probability of an engagement, to clear his ship for action." Barron was suspended for five years without pay and he would never again hold a significant command in the U.S. Navy. He spent the next ten years abroad.
Barron returned to the U.S. after the War of 1812 with the intention of reentering the Navy. He was met by much criticism, however, especially from Commodore Stephen Decatur, and officer under Barron earlier in his career. Barron challenged Decatur to a duel which took place on March 22, 1820 in Bladensburg, Maryland. Barron was severly injured in his leg but also fired a fatal shot at Decatur, who died several hours later. Decatur's death only worsened Barron's criticism. Barron died in Norfolk, Virginia on April 21, 1851.
Sources:
1. Heidler, David S. and Jeanne T. Heidler. "Barron, James." Encyclopedia of the War of 1812. Santa Barbara: ABC-CLIO, Inc., 1997.