Francis Daniel Pastorius
Leader of Germantown settlement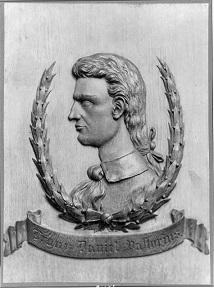 In 1683 Francis Daniel Pastorius was commissioned by the Frankfort Land Company and a group of merchants from Crefeld, Germany to form a settlement in America. They purchased fifteen thousand acres in Pennsylvania, which would become the community we know today as Germantown.
Pastorius was born in the municipality of Sommerhausen, within the Franconia (English: Frankenland) region of Germany. He studied at the University of Altorf and later studied law at Strasbourg, Basel, and Jena, and gained practical experience of the process of governance in Regensburg (English: Ratisbon) where the Imperial Diet was convened. He received his degree of doctor of law at Nuremberg. He studied Pietism, the teachings of Philipp Jakob Spener. He and other members of the Pietist sect planned to create a settlement in Pennsylvania, William Penn's religious haven. Pastorius met Penn himself and soon converted to Penn's Quaker doctrines.
Pastorius led a group of Mennonites and Quakers who settled Germantown on August 20, 1683. Pastorius became the town's leader and lawmaker, as well as one of the most dedictated members of the Society of Friends. In 1688 he drafted the first protest against slavery in America. He served in town office on several occasions.
On November 26, 1688 Pastorius married Anneke Klosterman. Pastorius was an avid gardener, writer and poet, writing extensively about the pleasures of gardening. He left behind forty-three volumes of manuscripts. He was on intimate terms with William Penn, Thomas Lloyd, Chief Justice Logan, Thomas Story, and other Pennsylvania leaders. Pastorius died in Germantown between December 26, 1719 and January 13, 1720.
Sources:
1. "Pastorius, Francis Daniel." The Dictionary of National Biography. Edited by Sir Leslie Stephen and Sir Sidney Lee. Volume XV. Oxford: Oxford University Press, 1917.
2. The life of Francis Daniel Pastorius, the founder of Germantown, illustrated with ninety photographic reproductions by Learned, Marion Dexter, 1857-1917; Pennypacker, Samuel W. (Samuel Whitaker), 1843-1916