St. Mark's Episcopal Church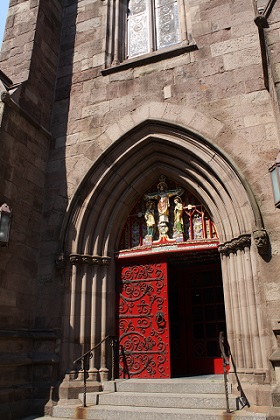 St. Mark's Episcopal Church, located on Locust between 17th and 16th, was founded in 1848. The church building was begun that year, dedicated in 1850, and finished in 1851 when the tower was completed. The architect was John Notman, also responsible for the Church of the Holy Trinity on Rittenhouse Square, and the Athenaeum which we visited on our Washington Square Walk. The church, an example of Gothic Revival, has long been one of Philadelphia's most fashionable. A strikingly lovely chapel within has a silver altar. The parish buildings and the garden create an effect not unlike that of an English church.
Across the street are a group of brownstones that date from the Civil War period and later.
---
---
Rittenhouse Square
St. Mark's Episcopal Church