Curtis Institute of Music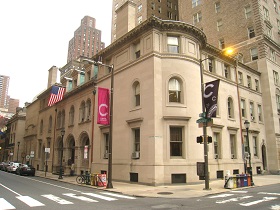 The Curtis Institute of Music, at the corner of 18th and Locust Street, is a very prestigious institution of musical education, considered one of the best in the world, and it's free. Curtis provides merit-based, full-tuition scholarships to all students, so extremely talented students from all over compete to get into Curtis, and only the very best make it.
Founded in 1924 by Mrs. Mary Louise Curtis Bok Zimbalist, Curtis has instructed several noted musicians including Samuel Barber, Leonard Bernstein, Anna Moffo, and Nadja Salerno-Sonnenberg. The building was the home of George Childs Drexel, the banker, and in addition to the lecture rooms, practice studios and administration offices, it has a charming small music hall for concerts over which is a fully equipped operatic rehearsal hall.
Continuing east, cross Mozart Place (a.k.a. Bouvier St.) and come to a smaller building, also belonging to Curtis, the Rock Resource Center.
---
---
Rittenhouse Square
Curtis Institute of Music