Washington's Headquarters
---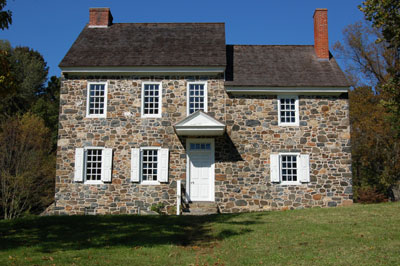 The Benjamin Ring House
On the eve of the Battle of Brandywine Washington established his headquarters in the farmhouse of Benjamin Ring, a Quaker farmer and miller. The house stood within easy access of Chadds Ford where the British were expected to cross the river. Washington held a council of war with his generals in the Ring house on September 9th to plan his strategy. During the 20th century, the house fell into disrepair, and it was extensively damaged by fire on September 16, 1931.
The Office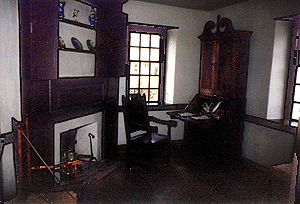 The office of Benjamin Ring. According to records from 1759, Birmingham Township contained one fulling mill and one grist mill, both of which were owned and operated by Benjamin Ring. Mr. Ring was, arguably, the most prominent business man in the township, and by operating unique mills, he was able to maintain his highly regarded position in the community. Due to his business needs, Ring would have needed an office in his home, and this large house provided ample space for such a feature.
The Master Bedroom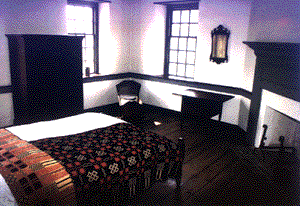 The master bedroom of the Rings includes a six-legged hinged bed that folds to create more floor space. While this piece is not particular to the Ring family, it is an excellent example of innovative 18th century furniture.