Gideon Gilpin House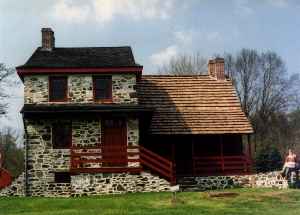 Gideon Gilpin, a Quaker farmer, was living here at the time of the battle with his family. After the battle Gilpin's property was plundered by foraging soldiers. The claim for losses filed by Gilpin provides insight into the appearance of this prosperous farm in September 1777. Included among his losses were:
10 milch cows
1 yoke of oxen
48 sheep
28 swine
12 tons of hay
230 bushels of wheat
50 pounds of bacon
1 history book
1 gun
Following the battle, Gideon ran a tavern out of his home to help support his family following the devastation of his farm. Today, the house appears much as it was in 1777.