Historic Valley Forge
Spy System 1777
Page II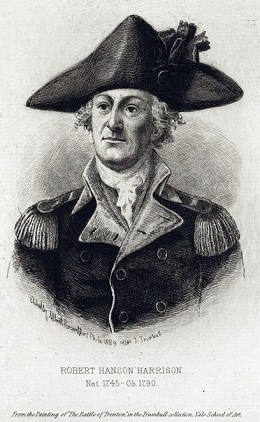 Some of Clark's next correspondence with the Commander-in-Chief is lost to history. On October 23rd, Washington's secretary, Robert Hanson Harrison, wrote to Clark:
"He [General Washington] thanks you much for your vigilance & exertions & wishes you to continue 'em for obtaining such information as may be material respecting the Enemy. For this purpose & the Expences attending Expresses, he sends you One Hundred Dollars which you will find inclosed.
Evidently Clark had reported a rumored imminent British abandonment of Philadelphia. Harrison conveyed Washington's skepticism of this optimistic report:
He is not so sanguine, as you are, about the Enemy's intentions to retreat. Before they do it, it is likely, they must be intirely convinced of carrying Fort Mifflin and that of Red Bank.
The next preserved letter of Clark to Washington, dated October 27 from Goshen, Chester County, also concerned the defense of the Delaware River, particularly the Hessian defeat in their October 22 assault on Fort Mercer:
By two persons just from Philadelphia I have received the following information . . . that the Enemy brought on shore thirty three Boat load of wounded Soldiers and Seamen on the 23d . . . and that they have taken several Companies of Marines from on board to do duty as Foot, they curse Fort Mifflin heartily, & say, it has given them more trouble, than any thing they ever met with
Clark goes on to note:
The Enemy have posted at every Ferry & avenue leading to Philadelphia a number of the Tories who went from this County, they are exceeding watchful, and examine every person they see; this has prevented my getting intelligence so readily from the City as I immagined
Clark had ridden to Chester in an attempt to elicit information, reporting: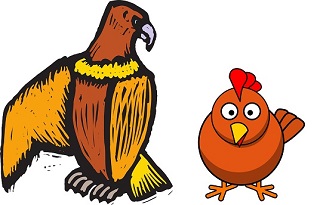 My ride has almost laid me up, as my health is much impaired of late, but I shall leave no stone unturned to gain information tho' the Inhabitants watch me as a Hawke wou'd a Chicken
Clark's next surviving letter is dated November 3 from Whiteland Township, Chester County, 8 P.M. The previous day the Continental Army had advanced to encamp at Whitemarsh. Clark described how he had gained General Howe's trust by impersonating a British loyalist:
I counterfeited the Quaker for once, & wrote a few lines to Sr Wm informing him the Rebels had plundered me, & that I was determined to risque my all in procuring him intelligence, that the bearer wou'd give him my name; a noted Quaker, who I knew had assisted him. The Letter was concealed curiously & the General smiled when he saw the pains taken with it told the bearer if he wou'd return & inform him of your movements & a state of your Army he shou'd be generously rewarded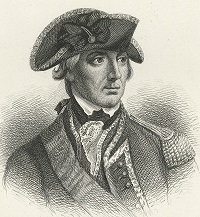 Howe gave Clark's spy a pass, which enabled the spy to walk freely about the city and gather vital military information, all of which he reported to Clark in great detail, and forwarded in the same letter to Washington. He noted that provisions were scarce in Philadelphia, and repeated the rumor prevalent that if the British were unsuccessful in taking the river forts they would abandon Philadelphia.
-the common talk is, they will make one grand effort & endeavor to possess red bank, & Fort Mifflin, if they don't succeed, quit the City & go on board their Shipping
Clark then suggested a plan for procuring more intelligence, while actively feeding the British disinformaton:
If your Excellency will please either to make out a State of the Army & your intended movements according to Sr Wms desire, or leave it to me, my Spy will carry it & take a further view Of their Camp &Ca
This arrangement delighted Washington, who replied to Clark on the following day (November 4, 1777)
you have fallen upon an exceeding good Method of gaining Intelligence, & that too much Caution cannot be made use of both on Accot of the safety of your friend & the Execution & continuance of your design which may be of service to us.
Washington then outlined the specific disinformation he wished to have delivered to Howe:
I'd have you mention that General Gates now having nothing to do to the Northward, is sending down a very handsome Reinforcment of Continental Troops to this Army; Whilst he, with the remainder of them & all the New England & York Militia, is to make an immediate Descent on N. York, the Reduction of which is confidently spoke of as it is generally suppos'd that Clinton has Detach'd a large part of his Troops to the assistance of General Howe; & that Genl Dickinson is at the same time to attack Staten Island, for which purpose he is Assembling great numbers of the Jersey Militia. That the receiv'd opinion in our Camp is that We will immediately attack Philada on the arrival of the Troops from the Northward & that I have prevail'd upon the Legislative Body to order out a great proportion of the Militia of this State-that there was great talk of the Virga & Maryld Militia turning out, & in short that the whole Continent seems determin'd to put an end to the War this Winter-That we mention the Forts as being perfectly secure, having sent ample Reinforcments to their Support.
---