Franklin Court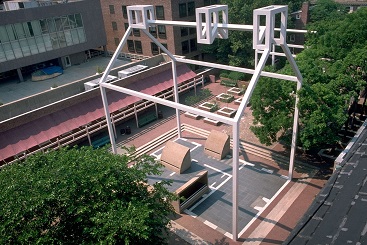 Cross Chestnut Street and walk down the alley to discover Franklin Court, the site of Benjamin Franklin's last home. No one knows exactly how the house originally looked. Where the house stood is now a "ghost house," designed by the architectural firm of Venturi-Scott Brown.
The flagstones in the courtyard display quotations from letters of Franklin and his wife Deborah. A below-ground museum has audiovisual devices to give the scope of Franklin's life and work. Franklin began his house here in 1763; his wife Deborah moved into it in 1765, after he had left for England. Franklin, "the good Doctor," didn't see it until a decade later, although he wrote his wife detailed letters as to what he wanted done. The house was completed in 1788, two years before his death. In 1812 the house was demolished.
322 Market Street was home to William Duane (1760-1835), the fiery editor of The Aurora who married the widow of Franklin's grandson, from 1802 to 1809, as did James Wilson, an Irish immigrant who became editor of the paper. A century later Wilson's grandson, Woodrow Wilson, was elected President.
---
---
Independence Hall Area