Betsy Ross and the American Flag
The "Congressional Room"
or The "Flag Room"
also called The Parlor!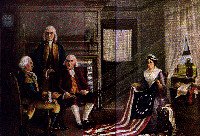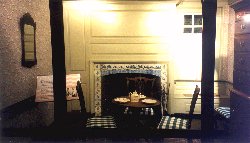 On the left is the world-famous painting of Betsy Ross by Charles Weisgerber (click on it for an enlargement). In it you can see the Congressional Committee of George Ross and Robert Morris, along with George Washington conferring with Betsy Ross as to the design of the new flag of the United States. On the right is a photograph of the room today. Note the locations of the fireplace with the Delft tiles and the door at the right rear.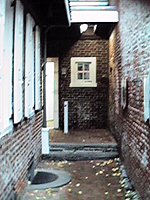 Turn around and go out through the door on your left. Walk down the breezeway and ...
---
---