Historic Valley Forge
Who Served Here?
Physicians and Surgeons with Washington at Valley Forge: Page II
Small Pox Innoculation
There was satisfaction expressed by the Commander-in-Chief concerning innoculation against small pox but a warning was issued: March 18, 1778. "Innoculation for the small pox having been haply performed in all the subjects in camp it is necessary to guard the fatal effects of that disorder taken in the natural way."
To secure milk was always a problem, and now Washington planned as follows: April 29, 1778. "Many inconveniences having attended the order of the 17th inst. by confining the purchasing of milk and other necessaries for the use of the sick to the regimental Q. Masters. Instead of that mode a discreet serjiant and few men according to the number sick in the regiment, are to be sent out daily to purchase such articles." May 3, 1778. "The medicine chests from Lord Stirling's division, to be sent to the Yellow Springs, immediately to be filled by the Apothecary Genl."
The following excerpts from the diary kept at Valley Forge by Albigence Waldo, Surgeon, from Connecticut is enlightening:
"December 25th — Christmas. We are still in tents, when ought to be in huts — the poor sick, suffer much in tents this cold weather. But we now treat them differently from what they used to be at home, under the inspection of old women and Doct. Bolus Linctus. We give them mutton and grogg — and a captial medicine once in a while — to start the disease from its foundation at once. We avoid piddling pills, powders, Babus's Linctus's cordials — and all such insignificant matters whose powers are only rendered important by causing the patient to vomit up his money instead of his disease. But very few of the sick men die."
Forbid Furlough for Doctor
"Valley Forge, Dec. 31st, 1777: 'Doct. Walso Surgeon of Col. Prentices Regt. is recommended for a Furlow.' J. Huntington, B. General.
"Applied with the above for a furlow, to Doct. Cochran who repl'd — "I am willing to oblige every gentleman of the Faculty, but some of the Boston Surgeons have by taking an underhand method of getting furlows, occation'd a complaint to be lodg'd with his Excellency (Washington), who has positively forbid my giving any furlows at present."
The following entries were subsequently written in Waldo's diary: Dec. 21, 1777. "A general cry goes through the camp this evening among the soldiers, "No meat, no meat." "What have we for dinner, boy?" "Nothing but cake and water, sir."
Dec. 24, 1777. "Huts go up slowly. Cold and smoke make us fret." [Thomas-American Revolutionary Diaries, Vol. III, pp. 133-170]
As a result of careful examination of state records we found the following Physicians, Surgeons and surgeon's mates who served in the Valley Forge encampment.
---
Connecticut: Doctors
• D. Adams • Ebenezer Crosby
Delaware: Doctors
• John Latimer • T. Tillotson • James Tilton
Massachusetts: Doctors
• Samuel Adams • William Annin • Daniel Bartlett • Thomas Benny • Barnabas Binney • Ezekiel Brown • James E. Burr • John Crane • Jacob Elrenzeller • William Eustis • George Fairbanks • Samuel Finley • Joseph Fish • Jonathan Fuller • Joseph Gardner • Jacob Hall, Jr. • John Hart • Walter Hastings • John Homasn • Estes Howe • John Jones • Jonathan King • James Mann • James Packer • Abijah Richardson • Daniel Shute • Elisha Skinner • Isaac Spofford • James Thatcher • John Thomas • Robert Walker • Peletiah Warren • Robert Warren • Samuel Whitwell • John Wingate
Massachusetts: Surgeon's Mates
• Henry Adams • Jeduthan Baldwin • Ebenezer Ballentine • Francis Beviere • Joshua Chase • John Eaton • Samuel Gilbert • Francis L. Goodwin • Mordecai Hall • Silas Holbrook • William Laughton • Nathaniel Leavenworth • William Little • Ebenezer Makepiece • Benjamin Morgan • John Noyes • Kendall Osgood • Benjamin Porter • Eleazor Porter • Calvin Scott • Kendall Scott • Timothy Smith • Thaddeus Thompson • Benjmain Upham • Aaron Warren • Josiah Waterhouse • James Weems • Samuel Woodward
New Hampshire: Doctors
• Caleb G. Adams • William Parker
New Jersey: Doctors
• Robert Henry • J.B. Niker • Bodo Otto, Jr.
New York: Doctors
• W.P. Smith • Charles McKnight • George Campbell
North Carolina: Doctors
• James Huston • W. McClure
Pennsylvania: Doctors
• William Adams • Robert Blackwell • John Cochran • John Duffield • Samuel Kennedy • A. Morgan • Bodo Otto, Sr. • Jonathan Potts • Benjamin Rush • William Shippen, Jr. • Francis Smith (DeAerts) • William Smith • James Tate
Rhode Island: Doctors
• Samuel Tenney • Peter Turner
Virginia: Doctors
• A. Alexander • James Craik • William Brown • George Draher
---
It should be noted that several of the Pennsylvania doctors rendered service as follows:
Dr. William Shippen, Jr. of Philadelphia, Director-General of army hospitals 1777-1781.
Dr. Benjamin Rush of Philadelphia, Physician General of hospitals designated as Middle Department 1777-1778.
Robert Blackwell was also a Chaplain.
John Cochran, born in Chester County 1730, was appointed Physician-General in Middle Dept. and in 1781 became Director-General of hospitals in the United States. He died in 1807.
Jonathan Potts was born in 1747 and in 1777 was elected Deputy Director-General of Hospital Department as related to the Continental Army. He was closely associated with Valley Forge.
Bodo Otto, Sr. was Hospital-Physician and Surgeon at Valley Forge. He was born at Hanover, Germany, 1711. He received part of his medical training at University of Gottengin and came to Philadelphia in 1755, where he practiced for a time. He then moved to Reading. He entered the Continental Service at 65 and continued in the field with the army. He was with the army at Valley Forge in the fall of 1777. He was interested in the Lutheran Church at Trappe. He also served at the military hospital, Yellow Springs. He resigned from the Continental service in 1782.
Samuel Kennedy, had close contact with Washington at Valley Forge, who greatly appreciated the service he rendered. The following obituary record is from the Presbyterian Church Cemetery, Charlestown, Chester County, Pennsylvania:
"In memory of Doctor Samuel Kennedy,
Physician of the General Hospital who departed this life on the
17th day of June 1778 — 48 years.
In him the patient friend
Harmonious here till death his life did end,
The Church's pupil and the State his care,
A Physician skilful and a Whig sincere,
Beneath this tomb sleeps his precious dust
Till the last trump reanimates the just."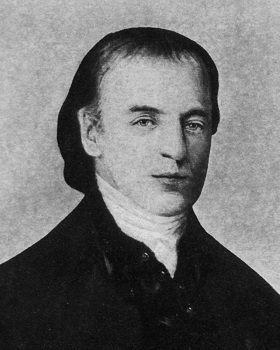 James Craik
Date and Artist unknown
From the National Library of Medicine's Digital Collection
And, from Virginia, James Craik was a native of Scotland. He came to America with General Braddock and later settled at Winchester, Virginia. After Washington assumed command of the American Continental forces, he appointed him to the medical service. Later as an Assistant Director he served at Valley Forge. He was physician in attendance at Washington's death in 1799. He died at Fairfax, Virginia in 1814.
Future research will reveal more names of doctors who served at Valley Forge. The above results came from long pain-staking effort. The services of Physicians and Surgeons at Valley Forge may never be completely recorded but the work they performed was of the utmost importance in helping to establish the foundations of our country.
---
Bibliography:
Weedon's Valley Forge Orderly Book, Charles William Heathcote, The Picket Post, January 1948, published by The Valley Forge Historical Society
Courtesy National Center for the American Revolution/Valley Forge Historical Society
---