Historic Valley Forge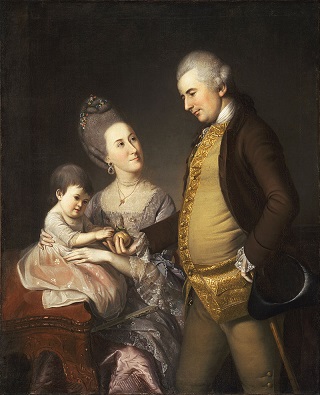 John Cadwalader was born in Pennsylvania in 1742, the son of famous physician Dr. Thomas Cadwalader, and a cousin of John Dickinson, a delegate to the First and Second Continental Congress.
Cadwalader was a member of the Philadelphia Committee of Safety, captain of the city's "silk stocking" militia company, and a commander of a Pennsylvania militia regiment.
He planned to participate in Washington's famous surprise attack on Trenton in Decmber of 1776. Washington would cross the Delaware River north of the city, Cadwalader, south of it, and the Americans would surpise the Hessians on both sides. Unfortuantely, Cadwalader encountered difficulties getting his troops and cannon across the river, and remained on the PA side. Washington still managed to score a victory at Trenton, and Cadwalader was not held to be responsible for failing to show up for the engagement at Trenton. He and his forces did cross the following day, met up with Washington, and eventually forced the British from New Jersey.
By fall of 1777, Washington requested Cadwalader to organize militia on the Maryland eastern shore. He saw action at Brandywine, Germantown and Monmouth.
On the Fourth of July, 1778, Cadwalader, fiercely loyal to General Washington, fought a duel with Thomas Conway, leader of the Conway Cabal. He shot him in the mouth, but Conway recovered from the injury.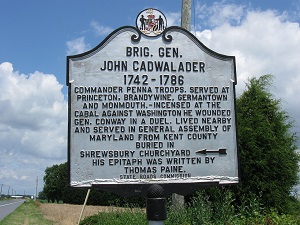 Cadwalader was offered several commissions to serve as a general in the Continental Army under Washington, but declined, electing instead to serve in the PA state militia.
Following the war, he moved from Philadelphia to Maryland, where he became a state legislator. He died at the age of 43 in 1786, leaving behind a large fortune
Adapted from an article by the National Center for the American Revolution/Valley Forge Historical Society
---