Second Bank of the United States.
---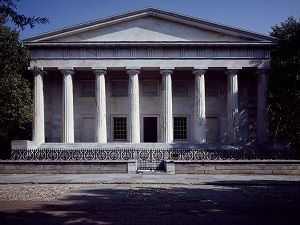 Biddle vs. Jackson
The Second Bank of the United States was chartered for many of the same reasons as its predecessor, the First Bank of the United States. The War of 1812 had left a formidable debt. Inflation surged ever upward due to the ever-increasing amount of notes issued by private banks. Specie was jealously hoarded. For these reasons President Madison signed a bill authorizing the 2nd Bank in 1816 with a charter lasting 20 years.
In the late 1820s a titanic clash erupted between President Jackson and bank President Nicholas Biddle. On one side was Andrew Jackson, Old Hickory, and his supporters who claimed the Bank was a threat to the republic due to its economic power. State bankers felt the central bank's influence frustrated their ability to function. Westerners and farmers claimed the bank was a baleful tool of city folks and overseas interests. On the other side stood Nicholas Biddle, an urbane Philadelphian; before banking he started a literary magazine called the Port Folio. He traveled the world and found the splendor of Greece most compelling (hence Biddle's insistence of a Greek revival structure). Supporters of Biddle's bank outnumbered detractors: 128,117 people signed memorials to save the bank as opposed to 17,027 who signed memorials opposing the bank. Ultimately Jackson triumphed when he vetoed Congress's 1832 recharter. Jackson considered his 1832 election triumph over pro-bank candidate Henry Clay a mandate of his anti-bank policy. The bank ceased to function in 1836.
In 1841 President John Tyler vetoed a bill re-establishing the Bank. The Whig party, which had supported the bill, reacted violently, burning Tyler in effigy and hurling stones and shooting at the White House. The reaction prompted increased security measures in the District of Columbia, but the Bank was never re-established.


Today the bank is home to the extraordinary Portrait Gallery. Inside the barrel-vaulted structure, graceful Ionic columns complement the portraits of revolutionary heroes and Federal statesman. Those painted represent a Who's Who of the 18th century. There are signers of the Declaration and Constitution in addition to military men and foreign emissaries. many of the works were painted by Charles Willson Peale, the foremost portraitist of his day. Other artists include James Sharples and Thomas Sully. Of considerable interest are the paintings of Patrick Henry, Casimir Pulaski and Robert Morris. Do not omit a tour of the gallery from your journey to Philadelphia.
---
Bank modeled on the Parthenon in Greece

60,000 people in West Philadelphia protested President Jackson's veto of the bank's 1832 recharter.

Washington's death mask is part of the Portrait Gallery collection.

Nicholas Biddle entered the University of Pennsylvania at age 10.

---
Location: 420 Chestnut Street (Between S. 4th and S. 5th)

Built: 1818-1824

Architect: William Strickland

Style: Greek Revival

Commissioned by: Congress

Facilities: outdoor seating, handicapped accessible

---