Bank of the United States Bank Notes
Put Some Authentic-Looking Colonial Money in your Pocket!
Buy Now!
Bonds, like the ones shown here, were issued by the Pennsylvania-chartered Bank of the U.S. of which Nicholas Biddle was the President. The Pennsylvania charter was issued after the Federal charter lapsed in 1836. For those interested in determining its value, our inquiries among bank note dealers suggest that $125 is a fair price for an authentic one.
However, if yours has a value of $1000 and the number 8894 dated December 15, 1840 (top picture), or $10 with the number 646 dated Jan 23, 1834 (middle picture), or $1,000,000 number 711 dated Dec. 25, 1840 (bottom picture), they are counterfeit reproductions sold as souvenirs along with other "authentic looking" bills and sell on Ebay for under $25, usually.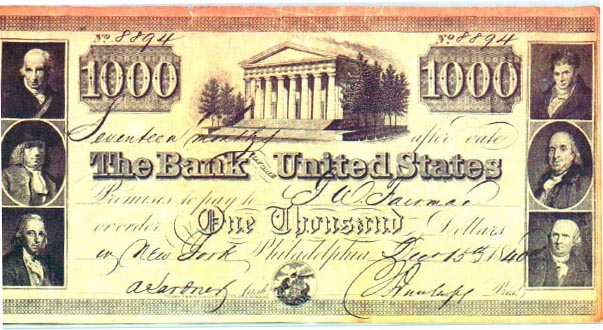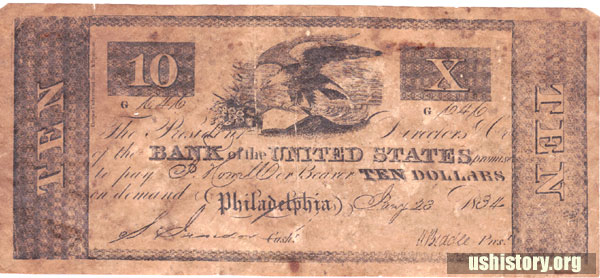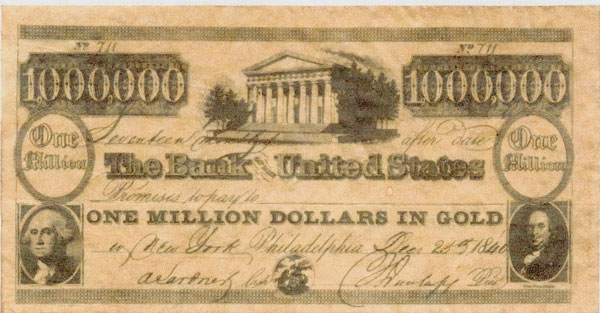 Return to
Second Bank
page