Franklin Square
---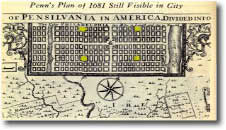 William Penn envisioned Philadelphia as a "Green Countrie Towne." Prominent in his design for the "towne" was a central square, with four other squares equidistant from the center. The five public squares, open green spaces to be shared by all, would be havens of respite in a busy world. Initially given humble directional appellations, northeast square, centre square and so on, today the squares bear the names of inspirational individuals in the city's history.
300 years after Penn completed his city plan, four out of the five squares are lush urban landmarks, places of retreat, refuge and even inspiration. The fourth is the hub to which all roads in the city lead, where City Hall is. Franklin Square, closest to the historic district, is a lovely park, with miniature golf, a playground, its old fountain, and a carousel.
Northeast Square was renamed for Benjamin Franklin in 1825. In the words of peripatetic historian John Francis Marion, "around Franklin Square...was lived much of the life we think of today as early American." After years of suffering from neglect, the park was revitalized in 2006. It is today surrounded on two sides by well-traveled roads and expressways and located hard by the base of the Benjamin Franklin Bridge.
---
The northeast quarter of the park had been a burial ground with tombstones in mixed German and English. In the 1830s, when the square was reclaimed as a public park and the first fountain was installed, gravestones were used to create the curbing. In 2005, gravestones were discovered close to the surface in preparing the miniature golf course. They were covered over undisturbed.
---
Location: Between 6th and 7th streets, Race and Vine Streets (Map)