Fireman's Hall
---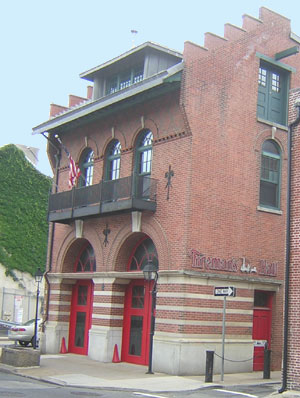 A history of firefighting in America, from 1731 to the present.
Exhibits tell the story of firefighting. Here are the leather buckets for water, miniature engines, nozzles, fire marks from old houses, parade hats — those wonderful stiff hats that look as if they were made from tin, early fire insurance policies, medals, and even a brass pole that goes from the third to the first floor, typical of those that firefighters slid down for generations.
Perhaps the art of the fire engine was carried to its apogee in the "Spider Hose Reel," made in 1804 and seen at the museum. The wood, the carving, the brass bells, the wrought-iron lantern in front, and the mirrors on each side of the reel, make this a work of art. It is truly elegant.
In the 18th century, residents kept buckets by their front doors (you can see leather buckets today at the Todd House). By 1803, water from the Schuylkill River (on the west side of Philadelphia) was stored in wooden trunks to be used in case of fire.
Highlights of the tour include a hand pumper said to be used by Ben Franklin, who founded the country's first volunteer fire company, and a stained-glass window depicting rescue efforts. Other artifacts include axes, badges, ladders, and posters. Children are enchanted by a visit here.
---
The brass pole goes from the third to the first floor.
This was formerly the headquarters of Engine Company #8. It was built at the turn of the century and was an active firehouse until 1952.
---
Location: 147-49 North 2nd St. (near Race Street) (Map)
Built: Restored 1898-1902 firehouse
Tourism information: Tu-Sa 9am-4pm. Free admission. Call ahead for group tours and holiday special scheduling. 215-923-1438
Official website: firemanshall.org/
---