Todd House
---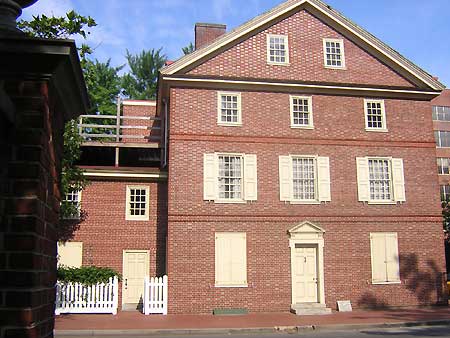 Dolley Madison slept here!
Imagine John Todd, 1792 esquire, walking from an upstairs bedroom to his first floor law office to start the day's business. As he opens his blinds, he might see his illustrious neighbor Bishop White returning from a morning service. Or perhaps he glimpses patients entering world-renowned neighbor Benjamin Rush's medical practice. Just a couple blocks away, the federal government would be preparing for a session of legislating at Congress Hall.
Todd's house, a solidly middle-class dwelling furnished in muted Quaker fashion, revealed the life station of a young lawyer whose star was in ascension. Though he had wealthier neighbors such as Bishop White who built elegant mansions, Todd had poorer neighbors too, living in crowded, tiny two-story dwellings. In fact, an outline of a privy which the Todds may have shared with some these neighbors is in the backyard. The neighborhood reflected William Penn's egalitarian vision — and the high cost of land and rentals.
While John Todd who dwelled in the house for two years would succumb to yellow fever in 1793, has become more or less a footnote on your Philadelphia tour, his wife Dolley remains a beloved historical figure and is the reason we are here. Dolley, by most accounts, was a fabulous and spirited hostess. Here fish, meat, fruit, and baked bread all purchased fresh daily from vendors at the High Street headhouse (now Market Street) would be prepared for the Todds, their two children, Dolley's younger brother and sister, and two law clerks who worked under Barrister Todd. Add to that a pet bird and a dog named Pointer and one has at the least a quite lively household. It was not unusual for young clerks to board with their bosses. And owing most likely to her father's poor land speculations, Dolley's family moved to Philadelphia.
When all seemed dandy for Dolley came the ominous year of 1793 which would leave her a widow and claim one of her sons as well. John Todd, assiduously tending to the business of settling wills in a city contaminated with yellow fever, himself fell to the dreaded mosquito. And here Dolley draws on her strength which would serve her so well when she and her second husband, James Madison, evacuated the White House during the War of 1812. Though the house remained in Dolley's possession, under the laws of the time many of the home's material goods reverted back to the Todd family. No money was coming into the household. After one of the Todd's legal clerks, Isaac Heston expired from fever, Dolley sued his parents for back rent. Now would be a good time in our story to come into Dolley's second floor parlor.
Parlors served as social entertaining centers. The Todds' largish parlor on the second floor faced the street. Though mostly bereft of ornamentation, the dining table is well-appointed. Throughout the house one sees goods associated with Quaker simplicity — pictures of Faith, Hope, and Charity, simple furniture, unadorned rooms, Biblical flash cards in Dolley's sister's chamber. In the parlor there's a dash more sophistication — the trappings of a "gay" Quaker. "Gay" Quakers, unlike their restrained brethren, were not immune to purchasing some of the finer goods now entering the city of Philadelphia.
The Park Service speculates that it is in this parlor that Dolley first met James Madison. Likely though, the widow was not spinning a web to snare one of the capital's most eligible bachelors. The retiring Madison had 17 years on Dolley. He had been burned in love by one Kitty Floyd who broke off their engagement leaving him humiliated and gun shy. (Before his death, Madison inked out all references of Miss Kitty in his personal papers.) Initially, Dolley had doubts about the overly-modest Madison. Yet, in the end love won the day and the pair were married in 1794. Dolley went on to serve as a de facto first lady for the widowed Thomas Jefferson in 1801, and as first lady during Madison's two terms.
Some further items of interest on the tour include a small closet beneath the steps used to store small objects, including candles. On the first floor one sees a reproduction of John Todd's handsome law office. Finally, on the way out one passes two leather fire buckets hanging from the ceiling. Firefighting to a degree was a communal effort at the time. If the town watchman spotted a fire at night he would rouse the neighborhood by using a New Year's Eve type of noisemaker. from slumber, the populace would be roused to douse burning lumber.
---
Before remodeling by the park service, a soda fountain operated on this site. They served Dolley Madison ice cream.
Dolley was widowed less than a year when she remarried.
A law passed in 1796 made it mandatory to have fire buckets in all houses.
---
Location: Corner of 4th and Walnut Streets (Map)
Built: 1775
Architect: Carpenters' Company member
Style: Georgian
Tourism information: See NPS Site
Facilities: Guides available, wheelchair accessible
---