Historic Bartram's Garden
---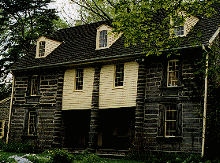 King's botanist in America
The homestead of John Bartram (1699-1777), America's first botanist, co-founder of the American Philosophical Society, and a towering figure in colonial Philadelphia's scientific community, today is America's oldest living botanical garden. The 45-acre site on the Schuylkill River in Southwest Philadelphia features Bartram's 18th century home and farm buildings, historic botanical garden, wildflower meadow, water garden, freshwater wetland, parkland, river trail and a museum shop. The house was named a National Historic Landmark in 1963.
An unassuming Quaker farmer with a rudimentary education, Bartram became widely known in America and Europe as an eminent botanist. Famed Swedish botanist Carolus Linnaeus called him "the greatest natural botanist in the world" and his work is still held in high regard today.
Bartram traveled the wilds of the American colonies in search of curious seeds and plants to bring back to his garden. His goal was to document all the native flora of the New World. Bartram's most famous discovery is the Franklinia alatamaha tree, which he is credited with saving from extinction. All Franklinias today are descendants of those grown by the Bartram family.
Like many intellectuals of his era, Bartram was interested in all things philosophic and scientific. He studied the medicinal uses of plants and sometimes treated neighbors who could not afford medical care. He became a member of the Library Company and founded the American Philosophical Society with his friend, Benjamin Franklin.
Bartram maintained a correspondence with learned men of Europe and America. Peter Collinson, a wealthy Quaker merchant and amateur botanist in England, became a long-time correspondent and good friend, although the two never met. Bartram regularly shipped Collinson and others abroad New World seeds and plants and is credited with introducing 200 species of plants to Europe.
King George III named Bartram the Royal Botanist in America in 1765 and in 1769 he was elected a member of the Royal Academy of Science in Stockholm.
Bartram and his heirs lived in the stone house over a period of 125 years. The garden continued to flourish under Bartram's descendants, who accomplished another first — publishing the new nation's first catalogue of American plants in 1783.
John's son, William (1739-1823), often accompanied his father on plant gathering trips. William Bartram gained international fame in his own right for his botanical expeditions, nature illustrations and writings, which inspired Romantic poets such as Wordsworth and Coleridge. William Bartram wrote Travels, a book about his four-year journey through the South. Travels is still considered a nature literary classic today.
In the mid-1800s the Bartram homestead and garden were purchased by Philadelphia industrialist Andrew M. Eastwick, who resolved to preserve the Bartram legacy. In 1891 the City of Philadelphia bought the property as a public park and historic site. The non-profit John Bartram Association formed in 1893 to assist the City with care of the site.
Today the John Bartram Association operates Historic Bartram's Garden as a house museum and botanical garden in cooperation with the Fairmount Park Commission and welcomes some 25,000 visitors annually.
---
The Bartrams created Colonial America's foremost plant nursery.
The Bartrams published the first catalogue of American plants.
Thomas Jefferson visited and purchased plants for Monticello.
The Bartrams discovered the Franklinia alatamaha tree in 1765 and saved it from extinction.
The Continental Congress adjourned a session specifically to visit John Bartram's garden.
---
Location: Fifty-Fourth Street and Lindbergh Boulevard
Established: 1728
Tourism information: Historic Garden open daily 10am-5pm; closed major holidays. Bartram House tours available and Museum Shop open March-December, Tuesday-Sunday, noon-4 pm. $12/adults; $10/seniors and children 12 and under.
Phone: 215-729-5281
Official website: www.bartramsgarden.org
---