The Declaration of Independence
When in the course of human events . . .
---
George III
King of Great Britain from 1760 to 1820
Born:
June 4, 1738
Work:
Ascended the throne in 1760 during the Seven Years' War. Concluded the Seven Years' War (Treaty of Paris.) Married Charlotte Sophia of Mecklenburg-Strelitz, September 8, 1761. Prosecuted the American War of Independence, 1776. Prosecuted various war fronts with Revolutionary France, Napoleon.
Died:
January 29, 1820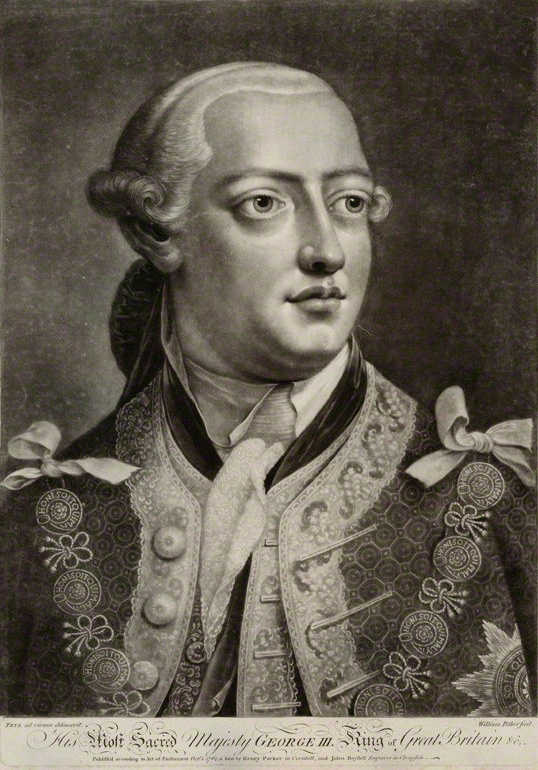 George III was one of the longest reigning British Monarchs. He oversaw the conquest of an empire in the Seven Years' War, and the loss of the American Colonies in the War of Independence. The British Empire was the leading model of Industrial and economic development in an era when the whole world was to be mapped and conquered. The face of Europe changed dramatically, as Britain and France struggled for domination. Britain emerged from that struggle as the world's leading power, but it was a nation faced with a fragile governmental structure and deep social strife.
The King was poorly suited for the demands presented by the age. It was widely know that his intellectual abilities were limited. A long chain of ineffective appointments to parliament and an over-dependence on people whom he merely felt unthreatened by, resulted in terrible instability in policy both at home and abroad. Tom Paine pointed out, tellingly, in his treatise Common Sense, that a major failure of Monarchy was the specter of the people presented with "an ass for a lion" in the person of the King. Finally, George apparently suffered from a hereditary disease that rendered him practically insane for several long intervals, and then ultimately lasted until his death in 1820.