Robert Smith
1722-1777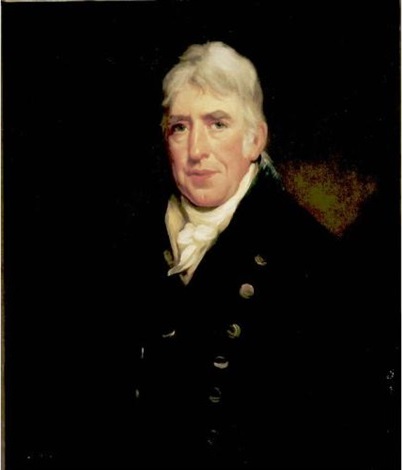 Robert Smith's work has been part of the Philadelphia skyline for over 200 years. In fact, Smith's work — buildings such as Carpenters' Hall, St. Peter's Church, and the steeple on Christ Church — constituted the greater part of the city's early skyline. To this day the Christ Church steeple is an eye-catching landmark in Philadelphia's Old City neighborhood.
The remarkable Smith was born in Dalkeith Parish, Midlothian, Scotland, into a family that included many masons. As a young man he apprenticed in the building trades, and emigrated to America in the 1740s.
Smith, who quickly became a member of Philadelphia's Carpenters' Company, is considered by many authorities to be the foremost master-builder, or carpenter-architect, of the Colonial Period. (The term "architect," which connotes formal training didn't come into parlance in the United States until about the year 1800.) A master-carpenter was a jack-of-all-trades. He not only knew the art of woodworking as one might expect, but the arts of engineering, masonry, and contracting as well.
Working from published architectural sketchbooks or models of the past, a master-builder would adapt his designs to the building needs and materials of the colonial city. Smith would work closely with clients. Together they would establish the structure's design and details. Once the design was agreed upon, Smith hired a crew and acted as general contractor. A famous client of Smith's was Benjamin Franklin. While living abroad Franklin wrote a letter to his wife Deborah in which he complained that Smith was taking too long to complete their house.
Smith was active in cultural and political affairs. In addition to membership in the Carpenters' Company, Smith was also in the American Philosophical Society and the Continental Congress. He was appointed by the city of Philadelphia as a Regulator of Party Walls and Partition Fences, a plum political position roughly akin to Building Inspector.
During the Revolutionary War, Smith constructed cheveaux-de-frise. These were boxes containing sharp metal-tipped wooden spikes which were weighted down with stones and sunk in the Delaware River to rip holes in the hulls of British warships. Smith also helped to erect a platform in the State House yard from which members of the American Philosophical Society (Franklin, Rittenhouse, and others) placed a telescope to observe the transit of Venus — a major event of the day.
SMITH BUILDINGS

Zion Church (4th and Cherry Streets)
Nassau Hall and Presidents' House at Princeton University.
College of Rhode Island, college edifice (Now Brown)
BUILDINGS DEMOLISHED
University of Pennsylvania, New College
The Walnut Street Prison (fireproof vaults) architect and contractor.
The first insane asylum in the colonies, at Williamsburg, Virginia
Defense works on Liberty Island
---