Cliveden
6401 Germantown Avenue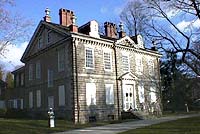 The Georgian facade of Benjamin Chew's manor.
Colonel Musgrave ordered all shutters to be closed. The British officer and his troops were stationed inside Cliveden, protected by the stone walls of the house. Cannon shot was heard in the distance and soon the Continental regiment came into sight. First the door exploded in splinters and the soldiers piled furniture against the broken entranceway. Continental soldiers advanced behind trees and walls. Soon Cliveden was in the midst of tremendous musket fire and smoke. Cannon balls pounded the house and the property. Soldiers stormed the house and were stabbed with bayonnettes through the windows. Cliveden resisted attack and Muskgrave received reinforcements to finish off the Americans.

Cliveden was assaulted by musket and cannon fire in 1777 during the Battle of Germantown. British troops were stationed inside the house.
The house's owner and builder, Benjamin Chew, was held in New Jersey during the Battle. Chew was an influential Philadelphian and was very knowledgeable in Law. He later became Chief Justice of Pennsylvania. Chew built the house from 1763 to 1767 with stones quarried from the property. Cliveden originally sat on eleven acres, which Chew increased to sixty.
Cliveden has been very well restored, though musket burns can still be seen on the floor of the entranceway. Today it is considered one of the outstanding houses of America, and a beautiful example of Georgian architecture. It occupies six acres, surrounded by gardens. The house is just as beautiful inside, and contains oustanding furnishings. These include unusual Waterford oil lamps, a sofa by acclaimed furniture-maker Thomas Affleck, and looking glasses used at the "Meschianza," the fabled ball that Loyalist Philadelphians gave in honor of General Sir William Howe.
Sources:
1. Photos by Greg Heller, Copyright © 2000 by the Independence Hall Association
2. Marion, John Francis. Bicentenial City: Walking Tours of Historic Philadelphia. Princeton: The Pyne Press, 1974.
3. Jenkins, Charles F. The Guide Book to Historic Germantown. Germantown Historical Society, 1973.

---