Stenton
4601 N. 18th Street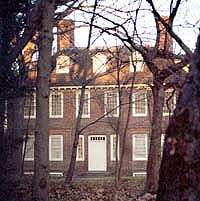 Stenton was the home of famous Philadelphian James Logan.
Stenton was the home James Logan, the great Philadelphian citizen. Logan held several major public offices in the Colonies and made numerous contributions to the city. He served for years as secretary to William Penn.
Logan's splendid 18th century manor originally sat on 511 acres, surrounded by vast gardens. The land was acquired between 1723 and 1730, while the house was finished by 1730. Logan designed the manor himself and named it after his father's birthplace in East Lothian, Scotland.
Today the property is considerably smaller, while old-fashioned gardens still surround the house. The interior is expansive and elegant, yet simple. Logan was a Quaker and his house reflects this typical inclination toward simplicity by the Quakers.
The large entrance hall and impressive front staircase lead to the dining room and library. The dining room has a "whispering closet," where a servant could be stationed to listen to visitors before the Logans joined their guests. The visitors would not know they were being overheard. Underground tunnels connect from the cellar to the stables, and some say, to the family burial ground.
The British General Sir William Howe occupied Stenton and used it as his headquarters during the Battle of Germantown. General Washington had the good sense to stay at Stenton on August 23, 1777 on his way to the Battle of Brandywine. It is the only house in Germantown which was used by both commanders as headquarters. Washington also dined here on July 8, 1787, with Dr. George Logan when he was in Philadelphia for the Constitutional Convention.
Stenton was almost destroyed by the British during their occupation of Philadelphia. The story goes that the manor was saved by the old woman (an African-American housekeeper named Dinah) who was left to look after the house. Two British soldiers approached one day with the intention of burning Stenton to the ground. They entered the barn looking for straw to start the fire. The old woman also knew the soldiers' intention. Just then she noticed a British officer riding down Main Street looking for deserters. She ran out and told the officer that she saw two men who looked like deserters enter the barn. Just then the soldiers returned with the straw and the officer immediately apprehended them, despite their protests. Stenton was saved.
Sources:
1. Photos by Greg Heller, Copyright © 2000 by the Independence Hall Association
2. Jenkins, Charles F. The Guide Book to Historic Germantown. Germantown Historical Society, 1973.
---